London-based Swizzle launched in August 2022 just as the UK's economic downturn worsened. In this Q&A, cofounder Capucine Codron MBA2022 reveals why the threat of recession failed to deter her and fellow co-founder Guillaume Jacomin MBA2022 from launching a startup during an economic downturn.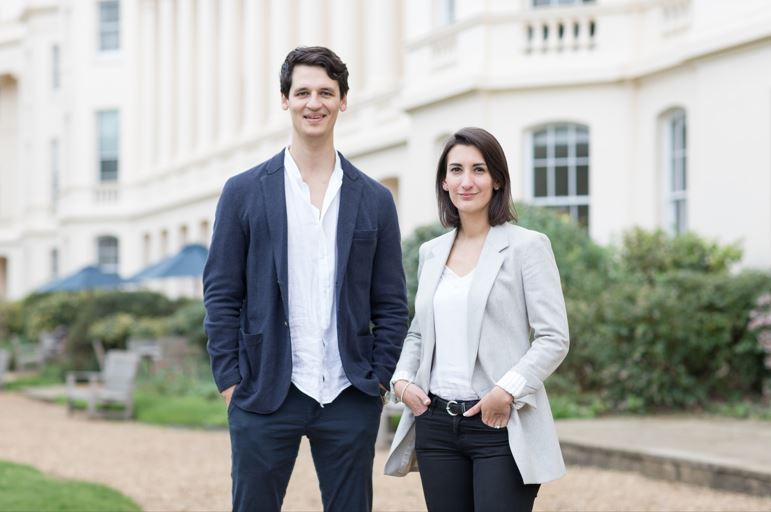 5 tips for starting up in a downturn
Investors don't want a big unicorn that is not profitable right now, so find a way to make your business model work and become cash-flow positive, because that's what VCs want today.
It's never the "right" moment to launch a startup – it's about solving a problem, so if you find the right idea, just get out there and do it.
Get the right team in place from the beginning, including people who will challenge you, because they will make sure you take the right decisions.
Be smart about how you develop the product. If you don't know that something is going to work, test it, get answers, develop the next prototype, and improve piece by piece.
Get creative with cash. Product partnerships can be a very effective way to attract new customers without being costly, especially when times are hard and other companies are looking to control marketing and advertising budgets.
Where did the idea for Swizzle originate?
Swizzle is a curated recommendation and delivery app for beer, wine and spirits. Both Guillaume and I were living in the US prior to coming to LBS, and there were a few apps on the market for wine and spirit subscriptions that also featured recommendations based on people's preferences and tastes. Seeing the success of these models made us wonder whether there was an opportunity to do something similar in a different market, but what really triggered us to search for a solution in terms of the market gap was that both of us were always getting calls and texts from friends asking us for recommendations for wine and other drinks. We joked about it to each other, but then thought, "What if we actually put this into an app?" We decided to create something that democratises that world, that removes all the jargon and that delivers people the best drink for their taste, preference and price range.
Why launch in London?
We believe England is the perfect environment for an app that recommends wine and other alcoholic drinks. People are sophisticated and they enjoy drinks while being conscious buyers in search of good value for money. They are also very open-minded to trying new things.
To start, we chose London because there is a sizeable target demographic here and we looked at the profile of the potential market in terms of delivery, recommendation and selection quality. And we're not just focusing on wine – we're going to have recommendations on craft beers, for example, and there are many super-cool English breweries that we want to promote. It's a great market for us and our ultimate goal is to expand globally once we've refined our product.
What's new in terms of the business model?
There are quite a few drinks-subscription companies around, but we realised that not everyone wants a regular subscription for alcohol – we think many people would prefer to buy alcohol when they want it, rather than committing to a regular purchase, so we decided to have a model based on delivery slots. We're trying to bring the convenience of delivering on the same day. We don't have any inventory, instead, we work with local stores in neighbourhoods. That gives us two advantages. First, we grow faster and more organically. Second, we can offer a larger selection of drinks at competitive prices because we can select what we think is the best value for money from different local stores.
What would you say is Swizzle's USP?
The advantage of Swizzle is that it combines multiple aspects in one service. First, we're a one-stop app for all types of alcoholic drinks. You have all these wine subscriptions, but then if you want good beer, you need to take out a beer subscription, too, and that gets complicated and time-consuming. We want to create an app where you can buy a really nice selection of every type of alcohol at a very good price. Second, we offer recommendations and guidance to our users just like they would experience in-store. Our goal is to simplify the jargon and empower people to feel confident when they buy a drink. Third, we offer same-day delivery! It's just really simplifying the selection, purchasing and delivery experience for the customer – you just go on the app and get everything in one order.
Swizzle is obviously highly curated. Is it aimed at the luxury market?
Not at all! We really want to democratise the market. We think you can have curation and a great selection, but at every price point, and that's what we're trying to do with the recommendations. There is a way with data and technology today to simplify that process for customers. But it's not for luxury necessarily – yes, you can get a recommendation for a great bottle of whiskey or a gift that is a bit more expensive, for example, but people would be surprised with the quality one can find in the £9-13 range if you know where to look. Swizzle is doing all the work of choosing the right products at every price range so we simplify the overall experience for the mass market as well.
How are you disrupting the market?
It depends on what market we are talking about! We think the business model potentially disrupts two different markets. One is the subscription/retail model. Several retailers provide recommendations, but they don't deliver on the same day, or you have to go in-store to make a purchase, which is not always convenient. We provide a great online experience with the same kind of advice, guidance, curated selection and recommendations, but delivered on the same day.
On the other end, if you look at the delivery market, all these delivery companies like Gorillas and even Deliveroo, who deliver in under one hour, are struggling with profitability because it's very expensive to deliver. The question we're trying to figure out is if our target customers really need their drinks delivered in under one hour? Or are they thinking about it at lunchtime or during a break at work and are happy to place an order and get the delivery once they're back at home? The way we currently organise our deliveries, and we're testing it now, is to offer daily delivery slots. When we deliver to all users at once, we can optimise our delivery process and become a lot more efficient. We think our model could really disrupt the "fast" delivery industry which is struggling right now.
How do you see the business evolving?
Once we become established and know more about our customers' tastes and buying preferences, we can use machine learning to interpret the data and we will be able to create detailed customer profiles. For example, depending on your taste in wine, the app will be able to recommend beers and spirits that you might like – everything's related and that's the overall experience we want to provide customers.
You recently appeared on the popular BBC Radio 4 business programme 'The Bottom Line', which possibly makes you the youngest founder to do so.  Why do you think you were invited to the programme?
The episode of the programme was entitled 'Optimists and Opportunists' – it was about business people "who are not afraid to be bulls in a bear market", as the BBC put it, and whether a recession might offer opportunities to serial entrepreneurs and startups, which we think definitely applies to us. We are currently part of the LBS Incubator cohort and we were introduced to the producer by the LBS team. We're very thankful for this opportunity. Another proof that LBS is very supportive of startups and LBS entrepreneurs.
How did you find appearing on the programme?
It was awesome. First, I got super-lucky with the other participants because we had a lot in common. Sarah Willingham (cofounder of Nightcap bar chain and former Dragon's Den panellist) is a very successful entrepreneur herself and an investor. She's also in the entertainment industry, with a number of bars in London, which meant there were some common aspects to our business that we could discuss, so it was very exciting to meet her. Surprisingly, the other founder that was invited to the programme was also from LBS. Arka Dhar is currently a Sloan student. And Sir John (Hegarty, legendary British ad agency guru), who was doing the podcast from his vineyard, is investing in startups and we've been in contact since the podcast. It was an amazing networking opportunity and the experience of doing a BBC podcast was super valuable. Evan Davis was a presenter on Dragon's Den, so he's really good at what he does and it was great to be in that company.
So why did you launch Swizzle at such a difficult time?
It all depends on how you view it!  A recession can be seen as a tough time, and of course, it is for many people. The way we see it, and why we participated in the BBC podcast, is that it provides potential opportunities. The first is that, if we are solving a real problem, we will get traction and results, even during a recession. Second, it will allow us to get data points to show potential investors that we're able to manage a company in a very difficult context. To us, this demonstrates that we will be even stronger once everyone recovers as we believe that cash-conscious founders will be better placed than "grow-at-all-costs" founders
How has launching in the current environment impacted the business?
We think the recession is giving us opportunities. We identified an area that we were able to develop, adjust to it and pivot extremely quickly. For example, the idea of having a daily delivery slot is one of the ways in which we reacted when we saw that the major delivery companies are suffering from a lack of profitability and struggling to get support from the investing community. We thought, 'OK, let's solve that problem', and we were able to start doing so in a very short time. That's a big advantage.
The recession is also changing the priorities of investors. We're starting to hear from them that they don't want a big unicorn that is not profitable – what they want now is companies that will find a way to make it work and become profitable. For us, that's an advantage as being at an early stage we have the flexibility to adapt and find ways to be profitable.  
Has the downturn affected your growth strategy?
It has forced us to be more structured and better at managing our cash flow from the beginning. Of course, the downturn is also bringing some financial pressure. It means we need to think about when and how we fundraise in terms of our company valuation. Therefore, we created a plan – call it a recession plan, if you will ­– where we are being extremely careful about how we spend money. When we launched in the summer, we did a family and friends round and raised £230,000. We don't have a date for the next fundraiser because we're exploring and testing different things, which will give us great answers, and those answers will tell us when the time is right to fundraise again. So, we have to be very creative to reduce costs and give ourselves a longer runway.
How are you being creative with cash?
We don't put a lot of money into something we haven't tested with real customers first and get positive results. We develop the prototype, test it, get answers, develop the next prototype, and improve piece by piece.
We are also careful about our marketing spending. We think product partnership is relevant for us. One example is our partnership with another LBS alum, Anna Szymanowska, who founded Fighter Shots. We have launched a partnership with Anna, so our users are getting a free ginger shot with every order for the next 50 orders. It's partly because we want to help promote another LBS founder, but it's also just a great partnership for us – we're doing a lot of partnerships and helping each other out.
Why did you decide to come to LBS?
I knew that I wanted to be an entrepreneur and that doing the MBA at LBS would give me the right tools – I knew I would be able to learn everything I needed to start a company, including exploring startup opportunities while doing the MBA. For example, Guillaume and I did all the research for Swizzle during the LBS Entrepreneurship Summer School elective.
I also wanted to relocate to Europe because I had been living in North America for 9 years and it was time to come back to be closer to family. I was very attracted by the idea to live in London so LBS made a lot of sense.
What did you learn during the MBA?
Doing the MBA at LBS has given me two key things. First, I spoke to a lot of people, including an LBS alumna, who told me that, because I wanted to start my own company, I would get the right support at LBS, which I did. You have a lot of people around you who are just super-helpful. Everyone tells you about it beforehand, but it's impossible to overstate how amazing the LBS network is and I know I can count on them, for sure. Plus, meeting my cofounder Guillaume at LBS and seeing how we work so well together has been the key to everything.
The second thing it has given me is perspective. I've realised that there is no obvious answer to something – you can be working on a case and thinking of a solution to a problem and think the answer is obvious, but then you hear someone else's perspective, which hadn't occurred to you, and that completely changes your view because you just hadn't seen it in that way. Suddenly, it becomes a question of 'OK, what do we want to test for now?' Because there is no obvious answer – it's all about testing, failing fast and learning, and iterating. Acquiring that perspective has been incredibly important.
What is your biggest challenge right now?
There are constant challenges. Right now, I would say it's building the right team and the right culture. We need the right people to come on board; people who fit the culture. We are big believers in having as much fun as possible while you work, even if it's a startup situation where you have to work incredibly hard, and we don't want to burn out people, so we're putting a lot of thought into creating the right culture. We believe if you have the right team you can take the right decisions. We also want different skills on board. Our CTO and our CFO think very differently from us, which is great because they bring different perspectives. We want to make sure that we're being challenged by the people we bring in, so we don't build an echo chamber.
What is your one tip for would-be entrepreneurs?
The best advice I ever had was from a mentor in the US who was a very successful serial entrepreneur, now working in VC, and who is still advising me today (she wrote my MBA recommendation letter). She told me that there's never a good moment to launch a startup, so just do it whenever you find the right idea, because it's about solving a problem, not about the timing. That's why we launched right after the MBA, even with a recession coming, even with MBA debt and everything else going on in the world right now.