AssetVault founder and LBS alumnus Vishnu Chundi leverages AI and Blockchain to remedy an age-old concern.
There is a staggering $6bn left in unclaimed assets in India and a further $4bn unclaimed by the Indian diaspora located around the world, and this figure is set to quadruple in the years ahead.
This money is simply lying as unclaimed deposits with various Indian and overseas banks and insurance companies. A deposit is classified as 'unclaimed' if the customer doesn't make any transaction for at least a period of 10 years.
"Ensuring that people have a Will and Testament in place is one of those old school business matters which needs to be brought into the 21st century," says Vishnu Chundi (MBA2017), the founder and CEO of AssetVault, the company that is tackling this challenge head-on.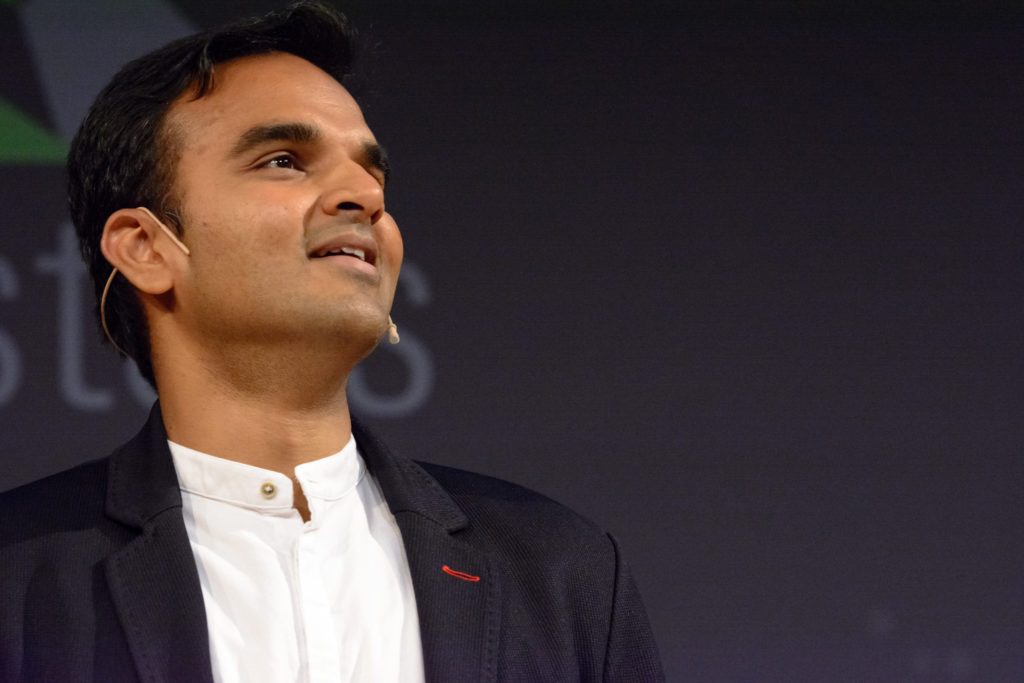 AssetVault – providing a modern answer to an old concern
AssetVault UK provides bank-grade security to third parties such as banks and financial advisers, allowing their end customers to securely record key details of their most valuable assets by cataloging all of the physical and digital assets in a secure private register. This protects customers through the provision of insurance products, private marketplace, and digital Wills thereby unlocking the value of these assets through Artificial Intelligence (AI) and the Blockchain.
In 2022, AssetVault expanded their product line to India under the brand name of AasaanWill (meaning Easy Will in Hindi) to help the 400m Indian middle class and the Indian diaspora that have assets in India with their financial continuity planning.
Their mission is to make intergenerational wealth transfer easy by leveraging technology.
Succession Planning remains hugely underpenetrated in India, and it is worth noting that over 95% of Indians do NOT have a Will as the current Will writing process is offline, expensive, and time-consuming.
AssetVault is India's only end-to-end digital first online Will writing platform. Their product is intuitive and based on simple Q&A. They outperform the competition on security, video letter of wishes, and visual depiction of asset allocation
"The business of writing a Will is often considered a taboo subject in India," says Vishnu, "And so a good part of the work AssetVault undertakes is to popularise the understanding that this is not a morbid subject. Rather, it is a means to ensure that one is not in danger of leaving one's family with a messy legacy."
A big business opportunity set to get bigger
"Our customers tend to write their Wills at major life milestones – marriage, children, and home purchase. Some segments are disenfranchised without a succession plan, such as working women, with their self-acquired property going to their husbands and their heirs in the absence of a will. LGBTQ and cohabiting couples do not have the same marital rights. We are going after a $4 B Wills market that is growing at a rate of 30% yearly. To put this in perspective, North America has a 35% penetration of Wills compared to less than 3% in India."
The business opportunity presented by the need to remedy this situation is significant. One in three Indians is in the 'middle class', with an annual income between US$6,000 and $36,000 per year, according to a report titled "The Rise of India's Middle Class". The share of the middle class in the population has risen from one in seven to one in three over the last two decades and is expected to rise to two in three by 2047.
This burgeoning middle class represents a new demographic that has traditionally not prioritised financial continuity and estate planning. Creating awareness and providing services to this segment presents a tremendous opportunity for AssetVault. This segment owns a life insurance policy and has a mortgage alongside investments in the stock market, mutual funds and crypto. Penetration of these asset classes is expected to increase significantly over the next decade and move digital. Therefore, without a Will, family members will have no clue about these 'digital assets of their loved ones'.
This addressable market is further boosted by the 18m-strong Indian diaspora, who need a reliable partner to plan their Indian assets.
How it all began, and how AssetVault's CEO plans to grow the business
"I set up AssetVault to solve a personal bugbear of mine," explains Vishnu, a 2017 LBS MBA alumnus. "My uncle had passed away without a Will and Testament and I saw first-hand the amount of pain that it took us as a family to figure out all his assets, where they were, and how we could access them."
After winning several awards, AssetVault now looks to build its presence in India. It is taking on the dual challenge of building awareness of the need for financial continuity planning and the ability of AssetVault to solve this need.
Following a seven-figure investment in 2022, AssetVault has launched a series of innovative advertising campaigns that seek to create an emotional connection with the customer, by highlighting the fundamental importance of planning for the future. These campaigns have been run in India's leading dailies (The Times of India and The Economic Times) and on the company's social media channels.
Aside from creative advertising, the other key asset that AssetVault has is the company's Founder and CEO, Vishnu Chundi. Charismatic and committed, this is someone who is as comfortable speaking about his dedication to his parents, his reverence for Stephen Hawking and his eclectic belief system.
"The last five years have been a very philosophical journey for me," says Vishnu. "I draw on disparate sources, such as Greek and Asian philosophy, the immunity to the pain of the stoic, and a Buddhist commitment to transcend the suffering caused by craving the unobtainable and often irrelevant wants and needs." Vishnu's deepest inspiration is the Serenity Prayer: "God, grant me the serenity to accept the things I cannot change, courage to change the things I can, and wisdom to know the difference."
In what he describes as the "marathon after marathon" of running one's own business, it has become increasingly important to recognise the pillars of his life and be introspective at all times while he charts the road ahead for himself and his organisation.
Winning at the Meet the Drapers competition
It is perhaps this combination of earnestness, commitment to his business, and the pillars of his life which helped Vishnu secure funding from the famous Meet the Drapers US TV show.
AssetVault won the Season 5 pitch competition of Meet the Drapers in Silicon Valley (Tim Draper's Shark Tank-style show). 35 startups from India, Taiwan, Portugal, Brazil, Singapore, Canada, and the United States pitched after screening a few thousand. AssetVault secured a prize of half a million dollars from Tim Draper (billionaire Silicon Valley investor in several unicorns such as Tesla, SpaceX, Coinbase, Robinhood, Hotmail, Baidu, and Skype among others).
In every episode, viewers get to learn and experience a region's start-up ecosystem and hear pitches from carefully selected entrepreneurs from that region. For the Brits among us, the show is not dissimilar to Dragon's Den.
Speaking about his experience on the show, Vishnu says: "As entrepreneurs and founders, there's a lot we have to do alone. But the most important thing is believing in yourself and getting others to believe in you. It's about taking your chances and putting in the effort without worrying too much about the outcome. As someone that grew up hearing the Bhagavad Gita in our house, it is only since I turned entrepreneur that the true meaning of Karma yoga is revealing itself to me. As a founder, things are mostly out of our control and the best we can do is constantly work on our skills and give our best shot."
Back to the future – Vishnu's time at London Business School
Vishnu started AssetVault during studying for an MBA at London Business School between 2015 and 2017. After graduation he was accepted to the LBS Incubator for a year. A former product manager at the UK's first fintech unicorn and ex-Bain, Vishnu wanted to undertake a personal journey that would see him transform from an employee into an employer and entrepreneur – a journey that he is still on, and he credits LBS for helping to take the first steps.
"LBS awoke in me the need to codify and evangelise the importance of taking risks and creating jobs," says Vishnu. I joined the E-Club and Tech Club in my first year and used the two years to convert my idea into a prototype. I took all the necessary classes to bridge the knowledge gap when it came to fundraising and strategy, and the exchange at Haas in the Bay Area proved super helpful. London is a phenomenal place to build a business- after classes in the morning, I would meet investors in the afternoon – network with other techies from Shoreditch in the evening and build the product at night.
See more about this start-up's journey here.