We invite you to submit your academic research papers for next year's Private Capital Symposium. Please submit papers related to private equity or venture capital for presentation on day two of the symposium by the 5th of March 2023.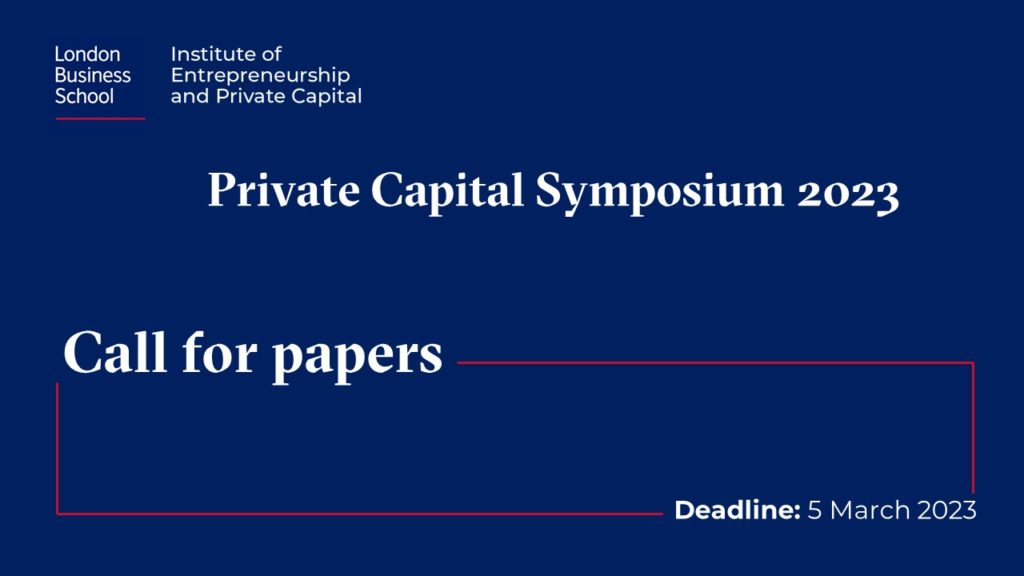 The 14th Private Capital Symposium will be held on 16-17 May 2023 at London Business School, bringing together influential industry experts and academic thought leaders for two days of inspiring, thought-provoking, open and lively debate. The symposium will be hosted by the Institute of Entrepreneurship and Private Capital (IEPC) residing at LBS.
Register your interest in attending.

About the Institute

Entrepreneurship and finance have been at the heart of London Business School for the last 20 years. Launched in 2021, the Institute of Entrepreneurship and Private Capital (IEPC), was born from the merger of the Institute of Innovation and Entrepreneurship and the Centre for Private Equity.

The scientific committee will comprise:
Luisa Alemany, Associate Professor of Management Practice at London Business School and Academic Director IEPC
Gary Dushnitsky, Associate Professor of Strategy and Entrepreneurship at London Business School
Victoria Ivashina, Lovett-Learned Chaired Professor of Finance and Head of the Finance Unit at Harvard Business School
Josh Lerner, Jacob H. Schiff Professor of Investment Banking at Harvard Business School
Ramana Nanda, Professor of Entrepreneurial Finance at Imperial Business School
Ilya A. Strebulaev, The David S. Lobel Professor of Private Equity & Finance, Founder & Director, Venture Capital Initiative, Graduate School of Business, Stanford University
Florin Vasvari, Professor of Accounting, Chair, Accounting Faculty; Academic Director IEPC
Michael S. Weisbach, Ralph W. Kurtz Chair in Finance at Ohio State University.
Deadline
The deadline for the submission of papers is Sunday 5 March 2023.

Submissions
Please submit your paper here.
Please save the date for our upcoming event:
Add to Google Calendar
Add to Outlook Calendar
Add to Office 365 Calendar
Add to Yahoo! Calendar