Impact Investing is growing in popularity as a career option for LBS students. The School's Strategy and Entrepreneurship concentration along with extracurricular activities like the Turner MIINT competition help us to learn how to succeed in these roles after graduation. In this article, the team that represented LBS talk us through their experience of taking part in the MIINT Competition.
What is the MIINT competition?
The Turner MIINT competition is the largest global MBA impact investing competition. Teams of MBA students from 35 different business schools around the world compete to win a $50,000 investment for a start-up that they have partnered with. The finals are held at Wharton Business School and the competition is organised and hosted in collaboration between the Bridges Impact Foundation and Wharton Social Impact Initiative.
The competition involves sourcing an exciting impact start-up to represent, conducting thorough due diligence from both an impact and investment perspective, and pitching to MBA professors, impact investors and VCs. As a result, it is a great learning opportunity for people interested in impact investing, VC, start-ups, and entrepreneurship. The main phases are:
Training and Team-Building – Undertaking training in impact investing and formulating a team impact investment thesis.
Startup Sourcing– Finding an early-stage impact startup to represent by meeting with startups that align with the impact investment thesis.
Due Diligence – Assessing the impact and commercial potential of the company – including potential return on investment. At this stage, teams may also support the company with business strategy or other areas (this is a mutually beneficial process because the startup benefits from diverse MBA experiences and the MBAs benefit from the learning opportunity and improvement of the investment proposition that they will pitch to investors)
The Competition – Students pitch their companies to faculty and impact investing and VC sector leaders. Each Business School can nominate only one team to compete in the global finals, so each school holds an internal competition first: At LBS, 44 different teams (210 participants) competed to win LBS's nomination in the global finals, which are typically held at Warton in the US, but were held virtually this year.
Final Round – Teams present recommendations to the judging committee comprised of industry leaders for a potential investment of $50,000.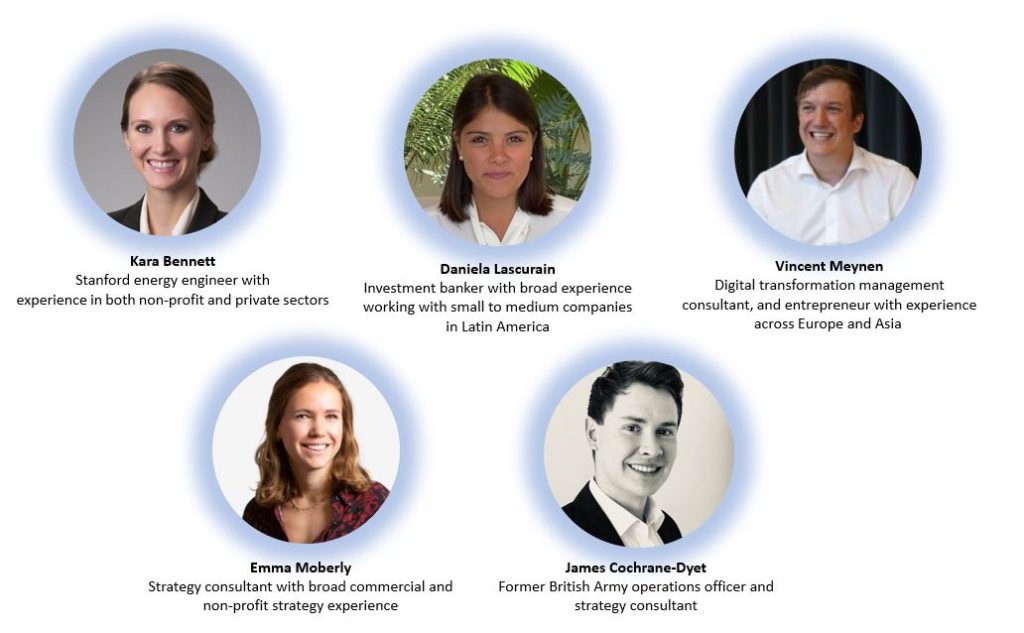 Why we picked SafetyNet Technologies
Based on our investment thesis, we were looking for an early-stage, UK-based company that balanced promising investment returns with an impact on environmental sustainability. We looked for companies with high growth potential and clear lockstep between financial performance and impact. SafetyNet Technologies strongly aligned with our investment thesis and we were excited about the prospect of working with such passionate and approachable founders, who were also eager to be represented in the competition.
About SNTech: Overfishing and bycatch are huge global problems with few proven solutions. Between 8% and 25% of the total global fisheries catch is discarded each year due to a technical inability to accurately target and catch the right fish, at a cost of USD $6.6bn per annum. According to the UN, 90% of the world's marine fish stocks are now fully exploited, overexploited, or depleted. We were inspired by SafetyNet Technologies' mission to tackle this problem and increase the sustainability of commercial fishing. They achieve this by developing unique light-emitting devices that help fishers catch the right fish and reduce bycatch.
SNTech's mission and business model aligned with our investment criteria, which prioritized the following criteria:
Innovative Application of Technology to Minimise Natural Resource Consumption –SNTech has progressed the science behind Pisces for 10 years with leading academic partners, building a proprietary database of 60+ marine species' responses to light, enabling optimal product deployment. SN Tech's products are built with fishers, for fishers, and have the ability to reduce fish waste, or bycatch, by up to 90%.
High Scalability Potential – SNTech seeks to serve a huge market – with a TAM in excess of USD $26 billion. With a unique competitive advantage and a promising go-to-market strategy, we believed SNTech was able to execute based on its strong existing network of aspirant customers and distributors, this is a company with enormous scalability potential.
A Diverse Team – SNTech has a male and female founding team and a 56% female team, which is highly significant compared to industry benchmarks for engineering companies that in the UK is <12%. SNTech has demonstrated commitments to Diversity & Inclusion and has the philosophy that 'greater diversity expands opportunity for success' engrained in its HR model. We believe this is not only a compelling Diversity & Inclusion metric but is an important investment metric that relates closely to access to capital.
Reduction of Inequality – The impact of declining fish populations, climate change, and overfishing affects millions of fishers globally, and especially those in developing target markets including, for example, India, Indonesia and West Africa. By improving profitability and reducing the bycatch regulatory penalties, sorting times and other bycatch-related effects, SNTech is able to improve the livelihoods of fishers in developing nations and help make their trade more sustainable.
Although we didn't win the competition, we did contribute to SNTech. We supported them with strategic considerations including revising their financial models, and, as a result of their involvement in the competition, investors (who typically acted as judges during the rounds but also including the LBS Student Impact Investing Fund) are currently exploring an investment in SNTech. We're proud that our efforts translated into concrete interest and we're hoping that SNTech will be able to close a sizeable ticket.
Aspects that we evaluated
We analysed the start-up through a comprehensive due diligence process, looking at the typical criteria assessed by VCs and impact investors. This included looking at the team and ensuring that they had the expertise, passion and tenacity to succeed and overcome potential future challenges… We also looked at their business model and their product and technology to ensure that they could fulfill an ambitious go-to-market strategy and gain traction in the market. We analysed the financials from a potential growth and investment return perspective, including conducting market research and market sizing analysis. Finally, we analysed the company from an impact perspective and looked at ways to measure the significance of the compelling impact proposition using the Impact Management Project frameworks and tools provided by the MIINT.
What we learnt from taking part
We all took away valuable learnings from the different aspects of the competition. We learned and applied a broad range of due diligence approaches and activities that complimented our existing skills and experience. We also learned some invaluable pitching skills through the rehearsals that we conducted with industry experts from both VC and entrepreneurial backgrounds. Finally, we all benefited from understanding the challenges of working in a small business and the activities necessary to develop a compelling business proposition for investors.
Our recommendations to future MIINT participants
The MIINT is an extraordinary opportunity to develop skills and experience across a wide variety of business areas. We would certainly recommend the MIINT competition for aspiring impact investors, entrepreneurs or venture capitalists. No prior knowledge or experience is necessary, but it is a relatively hefty time commitment, of 2-3 hours a week in the Autumn Term (from October), rising to 4-6 hours a week in the Spring Term before the final rounds in March).
If we could give any advice from our experience, it would be:
Try and work with and represent a start-up with approachable founders who are excited by the opportunities provided by the competition, and with a business model that you are genuinely passionate about representing and supporting.
Rehearsals are critical to refine and perfect pitches to investors, and we recommend you rehearse in front of investment professionals and entrepreneurs – it can be daunting, but you will learn so much more and be much better equipped for the competition!
Finally, remember the importance of never being asked the same question twice – that is, to ensure that you take on board critical feedback from your pitch audiences, and constantly update your story and message to make sure it is coherent, compelling and comprehensive.
What we plan to do next and how the MIINT has helped our career choices
Our team have diverse career aspirations and are exploring private equity, venture capital, impact investing, impact consulting, start-ups, and entrepreneurship. The MIINT competition has given us hands-on experience of working within a start-up, conducting due diligence, and pitching to leading investors which will serve us well in all our different career paths.
The LBS MIINT team consisted of James Cochrane-Dyet, Kara Bennett, Vincent Meynen, Emma Moberly and Daniela Lascurain. They all contributed to this article.
Please reach out to them if you would like to find out more about the competition, SNTech, or if you would like advice about your own MIINT participation.
---
If you liked this, you might like 5 top tips for taking the leap into VC.
---
About the authors:
James Cochrane-Dyet is a former army officer with seven years of experience leading combat and intelligence teams in the British Army. James grew up in some of the world's most desperate countries and is passionate about responsible investment.
Kara Bennett is an energy engineer by training and has worked in geothermal, off-grid solar, and oil & gas. Kara is interested in pursuing a career centered around sustainability.
Emma Moberly started her career at L.E.K. Consulting before moving to the strategy team at the Wellcome Trust – a global charitable foundation with spend of £1bn p.a. focused on improving health. She is currently working part-time at Bridges Fund Management, a specialist impact investor.
Daniela Lascurain used to work in a boutique investment banking firm in Mexico before starting her MBA at LBS last August. She is currently doing a part-time internship in VC. Her main interests are in the fintech, VC and entrepreneurship worlds.
Vincent Meynen is a former management consultant within EY's Digital practice. Prior to EY he was an entrepreneur who launched three startups. Post-MBA, Vincent aims to become a professional investor and is exploring venture capital, private equity and private wealth.
All are MBA2022 students.