Razor Group, a Berlin-based startup, acquires and scales Amazon Marketplace merchants into bigger, multichannel businesses using its proprietary platform. In October, it raised $125 million in equity which on top of a $400 million raise in May gave it a valuation exceeding $1 billion and made it a unicorn. CEO Tushar Ahluwalia MiM 2011 reflects candidly on the highs and lows he has known along the way – and looks forward to the next chapter of an amazing journey.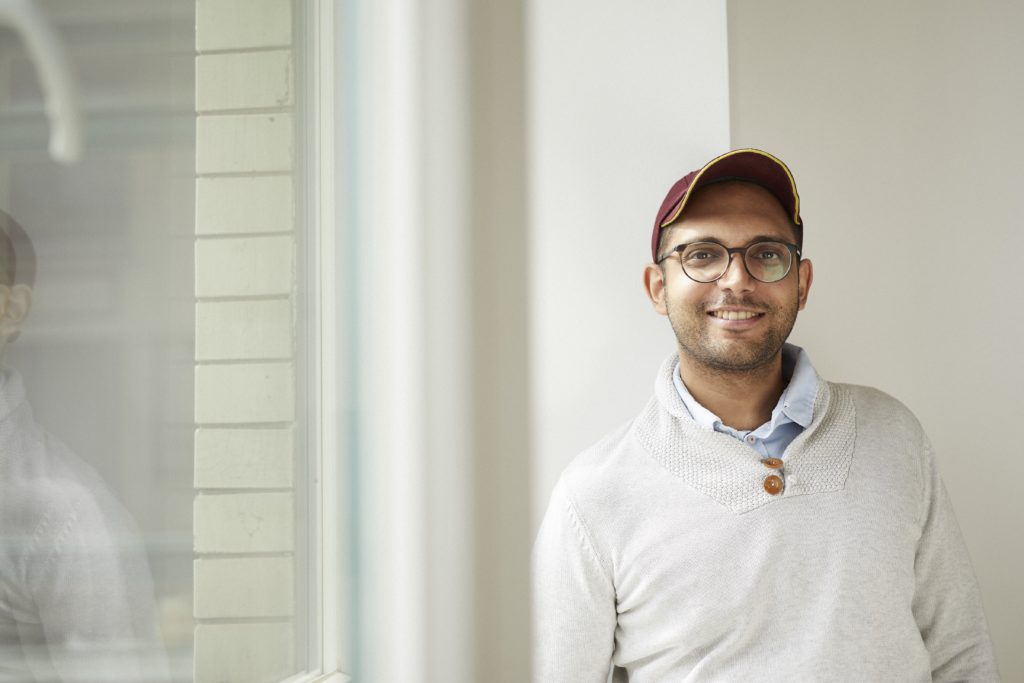 What made you want to be an entrepreneur?
I'm from a third-generation Indian family and was born and raised in Germany. It was actually the doctrine in our family to go into investment banking – all of my siblings went into investment banking, including my little sister, and they mainly worked in Canary Wharf. I was born and raised in a very entrepreneurial family, so I think I was always very entrepreneurial in my heart because I didn't know anything else. In fact, I didn't even know that this was called 'entrepreneurial thinking' – I thought it's just what you did!
How did your time at London Business School influence your career?
It had a massive influence on me. After doing my bachelor's degree at EBS Business School in Germany, I had the opportunity to come to LBS, and graduated from my MiM (Masters in Management) degree in 2011. The idea at the time was very much to go into investment banking, too. But I met a guy at LBS who was on the MBA course, Mato Perić, who is a successful start-up investor today, and he roped me into Rocket Internet. He made the introduction to the Samwer brothers and Alex Kudlich, who was a key member of the Rocket Internet management team back in the day, and in the summer after I finished at LBS, they sent me to India, the country of my roots, to build e-commerce businesses, and that's really what I've been doing ever since.
So, after finishing LBS, I have literally only ever worked on building e-commerce businesses, firstly in Asia and now in Europe. If had not gone to LBS, the entire e-commerce thing would have passed me and I would have become a banker.
But LBS had a massive influence in another way. It really opened up my horizons, in the sense that I was very German when I came to London, although my roots are Indian. My thinking then was very German, very local, and just seeing people from so many different parts of the world – including ethnically Indian people from the UK and ethnically Indian people from India – really opened up my perspective.
If I hadn't gone to LBS, I would not have had the confidence to go and open up a business in India… That kind of global exposure really made a difference in my life and in the way that I think. In fact, LBS was more of a catalyst for my life than my undergrad degree at EBS – and I spent three years more there than I did at LBS!
Razor Group has grown very fast, from a small founding team to around 300 employees today with plans to grow to 1,000 next year. That is a lot of people to manage. How would you describe your leadership style?
I would say it is both EQ- [emotional intelligence] heavy and IQ-heavy, so it is not just IQ-orientated. You need to use your emotional intelligence a great deal in running a business.
A lot of the decision-making we do today depends on tech – the automation and the data-driven nature of selecting businesses and our proprietary data infrastructure is what allows us to run so many companies simultaneously in an automated way, but all of this would not be possible purely through data-driven decision-making. We speak to the founders whose businesses we are acquiring and try to understand their story and how they came to the point where they are selling their businesses now.
And the qualitative part of your M&A process and the qualitative aspects to running the company are incredibly important when it comes to being able to contextualise a trade sale – to contextualise the people who work in your company and to be able to create an environment in which both assets and people can thrive, because all the data in the world can be wrong if you don't know how to read it and don't know how to put it into context. Stories are incredibly important.
What really motivates you? What would you say is your 'purpose'?
There are really two sides to this. On the sellers' side, it's about creating microchampions in micro-markets. We buy businesses and entrepreneurs that have really proved themselves successful in a micro-niche and integrate them into our platform to become a dominant player and build a large consumer business. That is very exciting.
On the employee side, we love building global teams and fostering global talent. Razor Group is about enabling so many different stakeholders with our business; not only the sellers but the other stakeholders – it's about building the companies. I really couldn't imagine doing anything else, because building a company is such rewarding work in terms of interacting with people, enabling people, building a team of different people and different skill sets, and creating value together. The coming together of so many different energies who are all creating value together is a very, very inspiring process. I would say I am almost addicted to it! This is really what inspires me. The broader aim of the company is to build a large consumer business – our vision is to build the largest German consumer company.
Like any entrepreneur, you must have experienced many low points in your career. How have you overcome them?
The entrepreneurial journey is extremely volatile. I have probably experienced more low points than any Goldman Sachs MD! I would imagine that the low points are also more severe [as an entrepreneur], but on the other hand, I have probably experienced more extreme high points.
If you're able to accommodate the different negative emotions, the different parts of your journey, and can stay focused on the larger outcome, that outcome can 'subsidise' all the difficulties that you have gone through. It's not easy to build businesses, but it's incredibly rewarding. I think you need to have a certain muscle to continue to get through the different situations that arise.
Just being intelligent is not enough to succeed. You need to be good with people; able to sell your business and to communicate; you need to be analytical, and you need to have a vision. You need to be able to do all of these things and you need to be able to access them at any given point in time.
It's about having a broader perspective when you choose that journey. However, it's not for everybody – it's not for people who want to plan their future out on an Excel spreadsheet. It's a journey for the adventurous-minded and the risk-takers. You need to be OK with massive failure at any given point in time, and then continue to execute anyway in the hunt for extraordinary gains. And if you can do that for long enough, at some point it will happen.
Would you describe yourself as an optimist?
My job is to be an optimist! I have to be an optimist – that's my life and I have no choice. A realistic optimist – or perhaps that should be an optimistic realist. You need to be a realist in order to address the challenges that are in front of you, so just being optimistic won't bring you success, but you need always to incline towards an optimistic view. Where do I stand today? How do I create a future that is more optimistic? That is essentially what you do every day and work towards that future.
How would those closest to you describe you?
They would say I am incredibly ambitious, and for the things that I want to achieve, I am very assertive. I like to build very deep relationships with the people around me. With my Razor Group co-founders, we are a very close-knit group of people. My co-founders would probably say I have an ability to go from hazy, macro-level discussion down to the nitty-gritty quite fast. If you were to ask my wife about me, she would say that I have a kind heart, but that I am disproportionately focused on creating something extraordinary, even at the cost of having a more 'normal' life. I also want to do something that leaves a mark – "always try for the extraordinary" is something that my mother would say and that is definitely my aim. I want to do something that leaves a mark.
You are very familiar with the venture capital space. Do you have any ambitions to become a VC yourself?
Nothing gives me as great a sense of achievement as building a team that accomplishes stuff together. That is essentially what I love doing. Understanding how the VC space works is a good entry point for anyone interested in becoming an entrepreneur, but the thought of being a VC myself just doesn't excite me. Building the team, learning how to build a company, execution is what excites me. Company building!
What advice would you give to someone leaving LBS today who had entrepreneurial ambitions?
For anyone with ambitions to build a tech venture, my first advice would be to think about how you are going to build capital. It's about capital, capital, capital. That means you have to build the relationships, you have to build the networks, you have to come into the ecosystem and have to think about how you are going to tap into that capital.
Second, once you have established those relationships, you need to ask what business is going to attract that capital? Rather than doing it the other way around and saying 'I have a great idea', look instead at what sector this capital is flowing into right now, and think what attracts you within that sector. That approach will probably prove more successful than trying to convince the entire world of your great idea – it's better to have a product or a business that people are already at least partly convinced by or have some familiarity with.
So, understanding the ecosystem, understanding where and how venture capital is flowing, then trying to see where that is going in the next five to six years, I would say is a more evolving approach and a less risky one.
And advice for LBS graduates not necessarily seeking to become entrepreneurs?
Come and join Razor Group! We have a couple of LBS people working here in our offices in London and Berlin we are very excited to have more visibility for Razor Group amongst the LBS community. Being one of the LBS unicorns, we would love to create stronger ties with the school.
---
Related stories:
LBS ALUMNUS FOUNDED YAGRO ACQUIRED BY FRONTIER AGRICULTURE GROUP