Xinxin Zhang reflects on the origins of Booster, the aspirations for the future, and how the benefits of taking part go beyond the monetary value that winners receive.
While there is no secret formula for succeeding in entrepreneurship, there are tools and platforms that can give founders a better chance at succeeding. As entrepreneurship has gained more and more traction at London Business School, the school has stepped up its game in providing support at all stages of the entrepreneurship journey through academics, the Institute of Innovation and Entrepreneurship, and the School's Entrepreneurship Club.
Amongst all these resources, there was still a critical phase of entrepreneurship that was underserved, and that was the phase in which great ideas required a small financial catalyst to prove to investors that the leap of faith underpinning these ideas has been tested. And without further ado, Booster was launched in fall 2020 with the support of the Institute of Innovation and Entrepreneurship.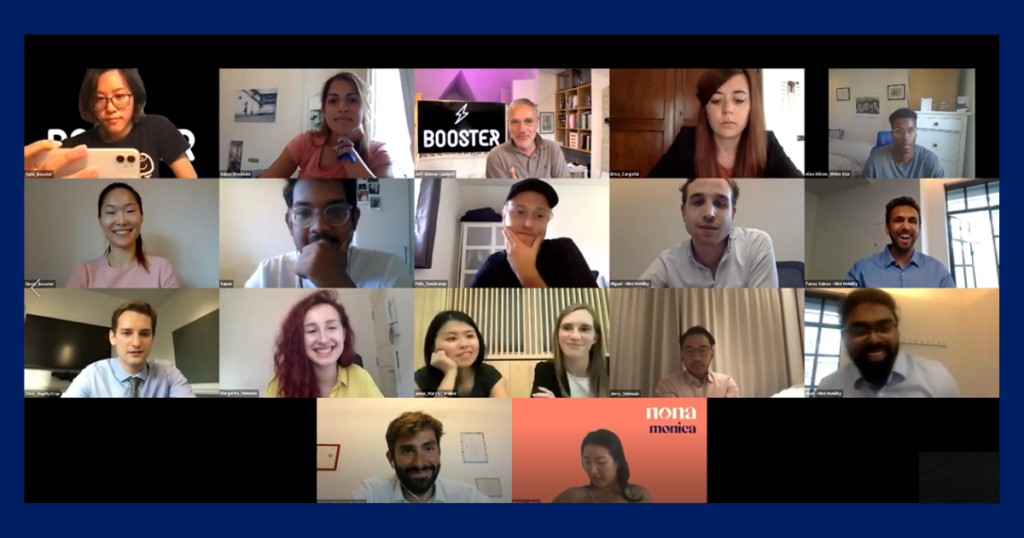 Booster #2 – its Evolution
Since then, the second iteration of Booster has been launched in April with some modest changes. The prize value has been increased from £20,000 to £25,000 and we have implemented a pitching workshop (led by Andrew Tollinton).
Through both events, we have expanded our VC representation including Notion, Founders Factory, Creator Fund, Keen Venture Partners, TechStars, White Star Capital, iNovia Capital, and Seedcamp. Additionally, the marketing campaigns we've launched paid off as each pitch night had around 200 attendees.
It's more than just the prize
Let's walk through the Booster journey with one of our winners, Nona, a startup that is on a mission to break the stigma around menstrual health in Indonesia, period. Although Nona's actual value proposition is related to organic period products, critical to its success is the education of menstruation and hormonal health. Therefore, Nona participated in Booster with two aims: 1) to use Booster's cash and non-cash prizes towards developing its mobile app, which will be the first period tracking app in the local language focused on educating women in this subject, and 2) to raise awareness of its brand.
Nona's focus on the Booster journey came with many other realizations and wins. Nona recalls that during the process they "had people reaching out who were willing to help in any way" and as they built out their Booster deck they "received a lot of guidance from LBS professors and their networks, including the former global brand lead for one of the largest pad brands worldwide". Nona continues, "our conversations with them really helped us to fine-tune our business plan and overall strategy".
With around 200 attendees, Nona definitely got its name out. Nona says, "after getting the word out about Nona during the Booster pitch night, a lot of friends have reached out to us and offered to connect us to other people". Perhaps, even within the LBS community, if there was not a lot of menstruation awareness, there is certainly now much more support for cracking the taboo about periods.
They are not the only ones to benefit from taking part. As a result of this competition, the Cargoful team represented LBS at this year's European Business Plan of the Year Competition where it went on to win the Sustainability prize.
Our aspiration for Booster
We look forward to continuously make a positive impact on campus. Our vision for the fall term includes bigger prizes, ongoing mentorship from the industry, and the inclusion of short-term accelerator or incubator programs to give our winners an opportunity to work alongside VCs and advisors.
As ExCo of 2020, we are really excited to see where our winners will be headed. We once again congratulate Cargoful (co-founders: Filippo Tamburini, Erica Pezzica), Mint Mobility (co-founders: Tanay Saboo, Alok Prasad, Miguel Villaquiran), and Nona (co-founders: Monica Pranatajaya, Nicole Jizhar). Shoutout to the winners of the first iteration: ScholarSite, FinAbility and Voila.
Stay tuned for the next school year!
This year's Booster team consisted of Xinxin Zhang MBA2022, Andrea Brusoni MBA2022, Anand Victor Ganeshalingam MBA2023, Alexandra Reinert MIM2021 and Yumi Tsuda MIF2021.
Read more about launching Booster here.