We spoke to Vinu Natarajan (LBS MBA2022), winner of Imperial College Business School x London Business School Healthcare Hackathon.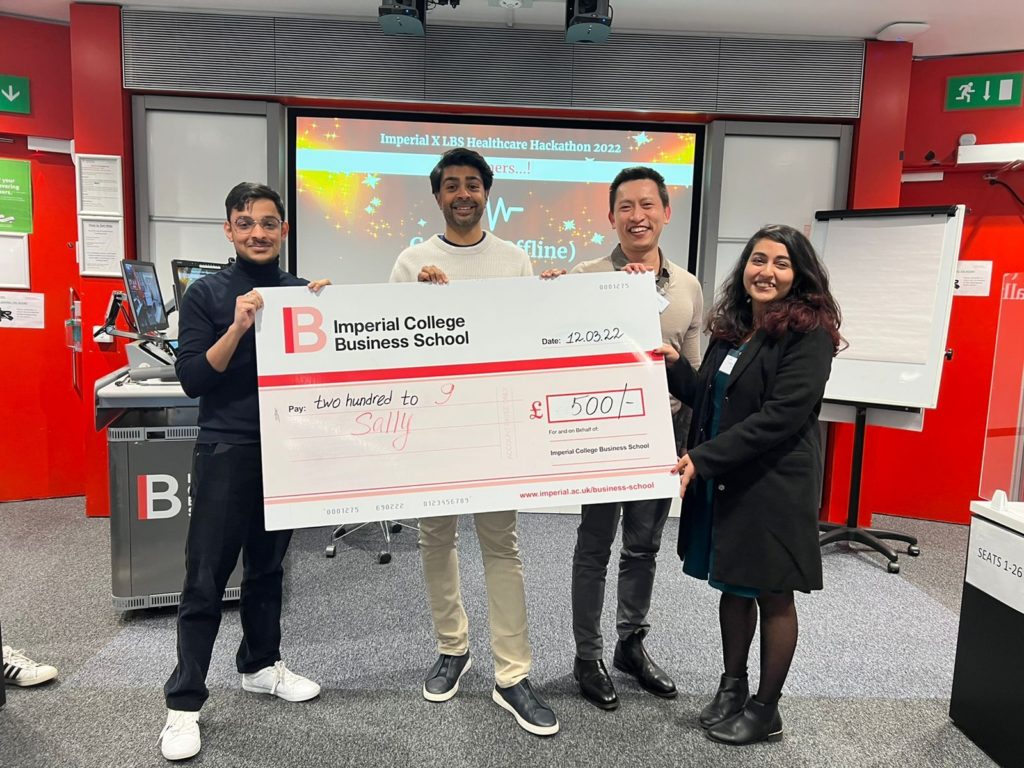 About the Hackathon
There were 65 students from Europe's top business schools that were randomly divided into 14 teams. 
We were then given a case study and given the following prompt: "Ideate a solution that can significantly promote healthy aging and/or contribute to sustainable elderly care by leveraging the advancements in digital healthcare and medical technologies"
We were given three hours to come up with a presentation and pitch to a panel of judges that comprised industry experts including physicians, healthcare consultants, and venture-backed healthcare founders. 
Our team consisted of Dr. Derek Teh, an anesthesiologist from Hult Business School, Ahana Chatterjee, a Masters in International Health Management student from Imperial College Business School, Jinesh Seth, a Masters in Management student from UCL, Yunyun Wang from Alliance Manchester Business School, and myself.
We received a prize of £500 for winning. The second and third place teams received £300 and £200 respectively. Special mention to my fellow LBS classmate Dr. Sarah Quian (MBA2023) whose group came in 2nd place. 
What is your tech idea and what is your inspiration?
We started off by discussing elderly members of our own families that we had to care for while studying in a foreign country. It can often be difficult to keep up with their medical care, without having been present at the doctor's appointment. Another issue is that elderly patients often have a hard time interacting with technology. So we started ideating around ways to solve these problems.
We came up with the idea for a voice activated interactive care navigation device named Sally. Think of it like an Alexa-type device that sits in the home of an elderly patient and can ensure they're doing everything their doctor recommends. Sally has an AI engine that receives a direct feed of a patient's care plan from their provider's electronic health record software (EHR). Through this Sally can proactively ensure that patients adhere to their care plans. For example, Sally might remind the patient to schedule an appointment with their physio-therapist, or that they need to go in for a blood-test. Furthermore, Sally can even ensure the patients have transportation to get to appointments or the pharmacy. Family members and loved ones can also be set-up to receive on-demand updates about the status of their edlerly parent, directly from Sally via SMS or push notifications. Additionally, Sally also functions as a medication adherence management tool, as it is able to store and dispense up to a month's supply of medication.
Any noticeable trends in the healthtech arena?
Well there are several, but I think the topic of the hackathon serves as a strong indicator of one of the major areas of focus. There are 840m people projected to be aged 65 or older by 2025. This population could potentially place a huge cost burden on health systems and payers (i.e. Medicare in the US or NHS), and so there is a lot of innovation going on around how to keep these people healthy and out of hospitals.
What's next for you?
Believe it or not, I actually signed up for the hackathon with the intention of recruiting people for my own health-tech startup. I recently founded OneRec, which is a US based health-tech company focused on revolutionizing how patients manage their own healthcare data. Our platform also streamlines access to real-world evidence and patient identification for pharmaceutical manufacturers and clinical research organizations. So I'll be working on OneRec full time once I graduate from the MBA in July.