In these unprecedented times of (using the word unprecedented) uncertainty, many of us are contemplating taking the leap of faith and becoming a fulltime entrepreneur. One of the most common questions I encounter is – "How can I focus on growing my business or on thought leadership when I am struggling to make ends meet?" This leads to the next question: "How much salary should the founders take, especially during COVID-19 times?"
Firstly, for the uninitiated, allow me to introduce the concept of Maslow's hierarchy of needs.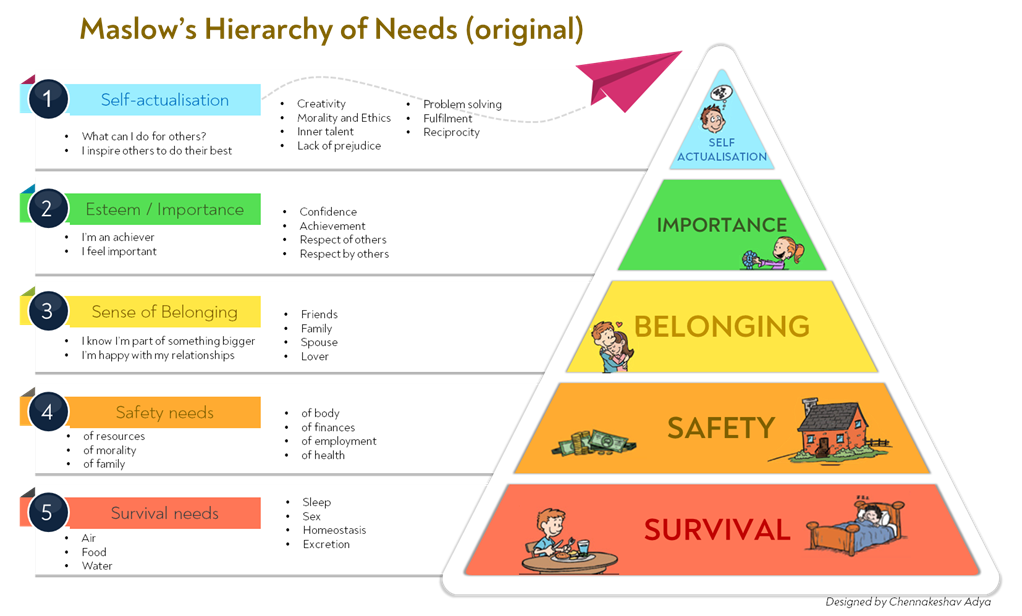 Abraham Maslow first introduced the hierarchy of needs in his 1943 paper "A Theory of Human Motivation". This hierarchy of needs suggests that people are motivated to fulfil basic needs before moving on to next set of more advanced needs. This is used to study how humans intrinsically partake in behavioural motivation. He believed that humans have a primal tendency to be self-actualised, which is why they will do whatever it takes to be all they can be in life, as long as the underlying levels are met. The end goal is to attain the fifth level or stage: self-actualization.
OK, but how does the Maslow's hierarchy apply to businesses/start-ups?
Each business is unique – with its own unique business and revenue model and its own mix of founders, employees, investors – all with their own set of priorities and needs. If we juxtapose Maslow's hierarchy to businesses/start-ups, we soon realise that businesses function just as humans. The hierarchy of business needs would look something like the below: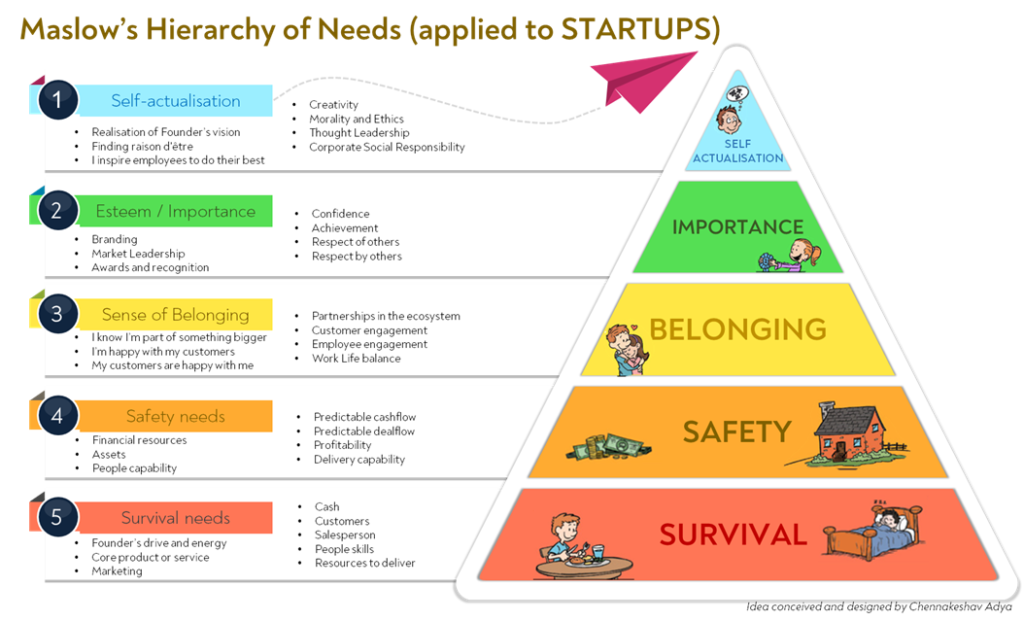 Businesses tend to start at the bottom of the pyramid in the survival mode; almost always bootstrapping and scrapping for every penny to save costs and going after every sale they can make to validate their business model. If the business does survive, it moves into the safety needs phase, where it raises capital and stockpiles enough to survive any future storms.
Once the stability has kicked in, up next is the sense of belonging. Businesses hire the best and most capable people to align with the founders' grand vision with the aim of keeping their customers happy and also slowly shift gears towards being happy with their customers. With the success comes esteem (awards, social status, PR, interviews), importance (power, accomplishment) money (profits), or maybe in the form of recognition from your industry or competitors.
And finally, if the business has actually made it this far, it has to start to think bigger with the impact on the planet, the society, the community, the sector, the geography etc. i.e. the business equivalent of self-actualisation.
OK, all this sounds great, Keshav… but how does the Maslow's hierarchy apply to start-up FOUNDERS more specifically?
Founders can either make or break businesses. Like a kaleidoscope, a business is a collective reflection of its founders' priorities. It takes a lot of courage to drop a thriving career to become a start-up founder.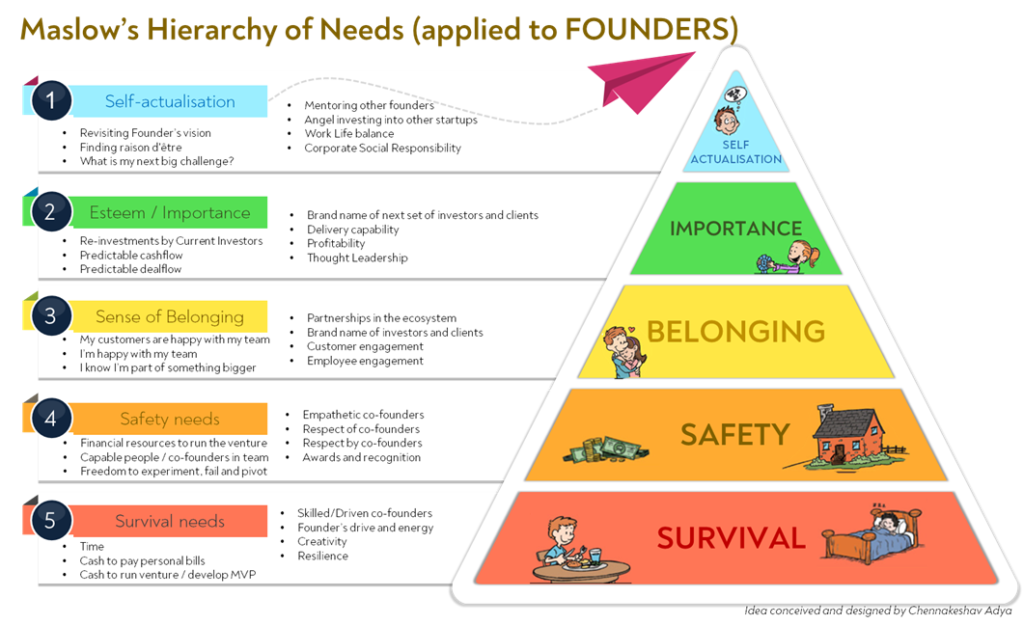 One interesting personal observation from the comparison between the hierarchies for Humans, Start-ups and Founders is that Founders are already in the "SELF-ACTUALISATION phase of Humans" when they start out. Traits such as creativity, time, channelling inner talent, confidence and the drive, vision, and energy are a part of the "SURVIVAL phase of Founders", without which, the founders cannot build the venture. Founders build ventures not to conform, but to become more individual and to self-actualise at the earliest. People who were pigeon-holed in specific roles (let's say – finance) in corporates, suddenly break these artificial barriers and take on different roles in startups (e.g. marketing, operations, sales, delivery etc.) exposing them to a wide range of opportunities; allowing them to self-actualise in a shorter span of time.
But let's look at the other important SURVIVAL needs for Founders:
TIME is always in short supply and is the most precious currency for founders. Being thoughtful about how you spend it is an enduring, daily challenge.
Next comes CASH for personal survival. Unless the founder has savings for basic survival for at least 18-24 months, one should not look at leaving a corporate career to get into entrepreneurship. The founders are in the venture for the equity returns, not just for the monthly salary. If the venture is raising early rounds of funding, then the burn-rate will be a noteworthy factor in whether the founder can even afford to pay themselves a salary. Most founders make unbelievable sacrifices to get their venture off the ground; but the situation should not be such for the founder, where all they are worried about is how they will pay their rent/mortgage or their kids' school fees or even worse – where their next meal will come from.
Then of course, comes CASH for running the business. One needs to be aware of all the hidden costs that come with running a venture – the accounting costs, employer's national insurance (NI), and other costs of operations. For example, if you decided to pay a developer £40,000 a year, then the company would have to fork out an extra £4,467.2(11.4%) on average. And that simple, unknown difference across 5 people can make or break a business! However, also look at R&D tax credits (if applicable).
Those who do not move, do not notice their chains.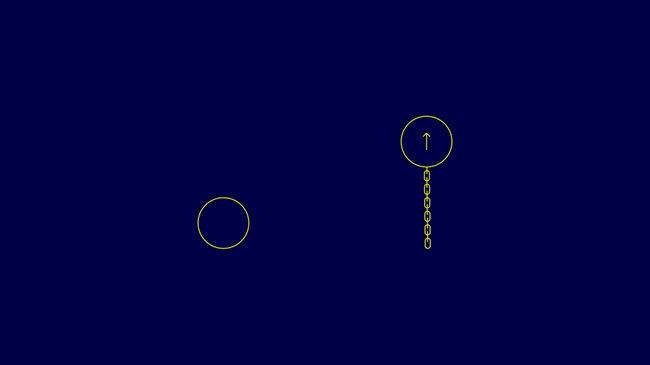 So, is there an ideal way out for start-ups and founders to balance salaries and personal priorities?
One of the top reasons start-ups fail is the Co-founder dynamics, often driven by financial needs to survive. Most founders ask the question – why am I struggling to make ends meet, whilst my co-founders are not, and do my co-founders really know what they are doing? Why are they being paid what they are being paid?
To quote Maslow again: "When people appear to be something other than good and decent, it is only because they are reacting to stress, pain, or the deprivation of basic human needs such as security, love, and self-esteem."
Every start-up is different, and every founder has a different relationship with every other co-founder and investor, so there is no real one-size-fits-all approach. There are good founder-compensation policies, but also bad policies, and some policies that outright kill a start-up because the founder cannot survive at a personal level.
What about paying founders 6-figure salaries in the early stages?
Having reasonable salary expectations is important when raising. Investors totally judge you on it. If you are raising a seed of $700k and the founders each expect a salary of $100k, you can be darn sure the investors will call BS and think poorly of you and the team. That cash should be going to grow the venture really. However, the founders do need to pay their bills. To determine how much to pay themselves, founders need to have an honest look at their personal expenses (both – fixed and variable) and strike a good balance between barely enough to survive and comparatively comfortable.
And what about deferred founder salaries?
This approach is not advisable for the exact same reasons as above. Founders should not take a low salary today with the anticipation of "making up the difference" when they get funded in the future. That cash from the raise should be primarily going towards the venture, not the founder's bank account.
Successful start-ups tend to have founders, investors and staff on the same page about taking the venture to a huge, financially lucrative exit in the long-term. As the venture's valuation and fund-raises continue onwards, founders can increase their salary with respect to the valuation and state of the cash flow. Here's a great start-up founder calculator here.
On a related note, my dear friend, colleague and co-blogger – Dr. Nicholas Beecroft has put together a new summary of the Master Code of Human Nature, which describes the 9 fundamental value systems. It's also called Spiral Dynamics Integral and, by the man who discovered it Prof Clare Graves called it "the emergent, cyclical, double-helix model of adult biopsychosocial systems development." I really recommend studying it and learning more.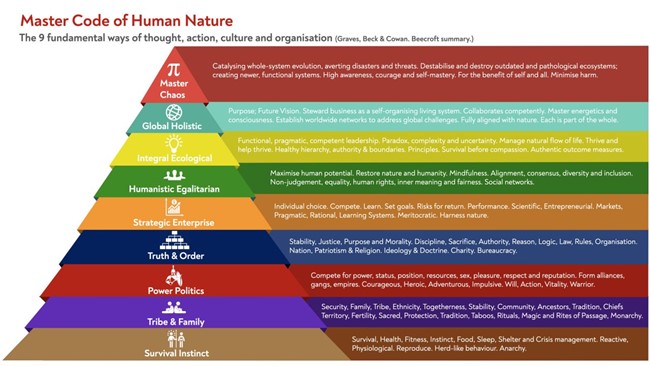 Parting thought till the next blog:
Nietzsche famously said, 'Whatever doesn't kill you makes you stronger."
#TheZymurgistDiaries #GrowthMindset #Leadership #EntrepreneurialMindset #EntrepreneurialChallenges #covid19times
---
About the author: 24x Founder, 3x Success, 2x VCExit, 19x Failure, 100x Resilient, 14x Sectors, 6x Continents, $2+bn deals originated and advised.
Chennakeshav Adya (Keshav) is an eclectic value creator for mid-sized firms and PE/VC funds on Fund-raising, M&A, growth, corporate strategy and deal-making (currently, as co-founder of Adan Corporate). He is a resourceful entrepreneur with 20+ years of global experience in building businesses from a concept and growing global teams from 2 to 200+.
A deca-lingual, multi-talented zymurgist, Keshav is skilled at using the founder's mentality and thrives in uncertainty and chaos, directing teams through the "Unknown" in the initial 1-2 years of setting up any type of new venture.
As an Entrepreneur Mentor in Residence (EMiR), Keshav is associated with London Business School's experiential entrepreneurship activities supporting students and alumni who are interested in pursuing a career in entrepreneurship, whether launching or growing their own ventures.