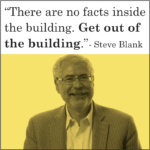 The customer development method was created by serial entrepreneur-turned-educator Steve Blank, father of the Lean Startup Movement. While Luisa Alemany, Associate Professor of Management Practice at London Business School, was preparing for her 'New Venture Development' class, she decided to contact Steve Blank to get his views on identifying customers during lockdown. Steve's well-known words are: "There are no facts inside the building. Get out of the building." But now that we're all confined in our homes, how do we achieve this? To answer Luisa's question, we were thrilled that Steve decided to join the classroom!
How do we 'get out of the building' during lockdown?
Any tips on how to reach out to people?
Every crisis is an opportunity.
Not enough? We've published the full class recording online, watch it here.
Thanks to Steve Blank for joining us past midnight (California time)!