SFR Medical, a social impact MedTech company from this year's LBS Incubator cohort, was recently selected to represent London Business School at this year's Santander Universities Emerging Entrepreneurs Programme.
The programme is open to students and recent graduates from a Santander Universities UK partner university. It runs from May – September 2020 and features virtual sprints, exclusive online content, and inspiring speakers. The programme is designed to help Entrepreneurs understand how to get the most from their business and culminates in National Finals, a two-day event at the end of September where participants pitch for a chance to win £30,000 of equity-free seed funding, mentoring from business experts and a fully funded intern. The runner up also gets the same support with a £20,000 prize and all entrants have a chance to win one of the smaller awards.
We asked Lisa Helfer SLN2018 to talk about what it means for them to be selected this year, their journey so far and their plans for the next few months.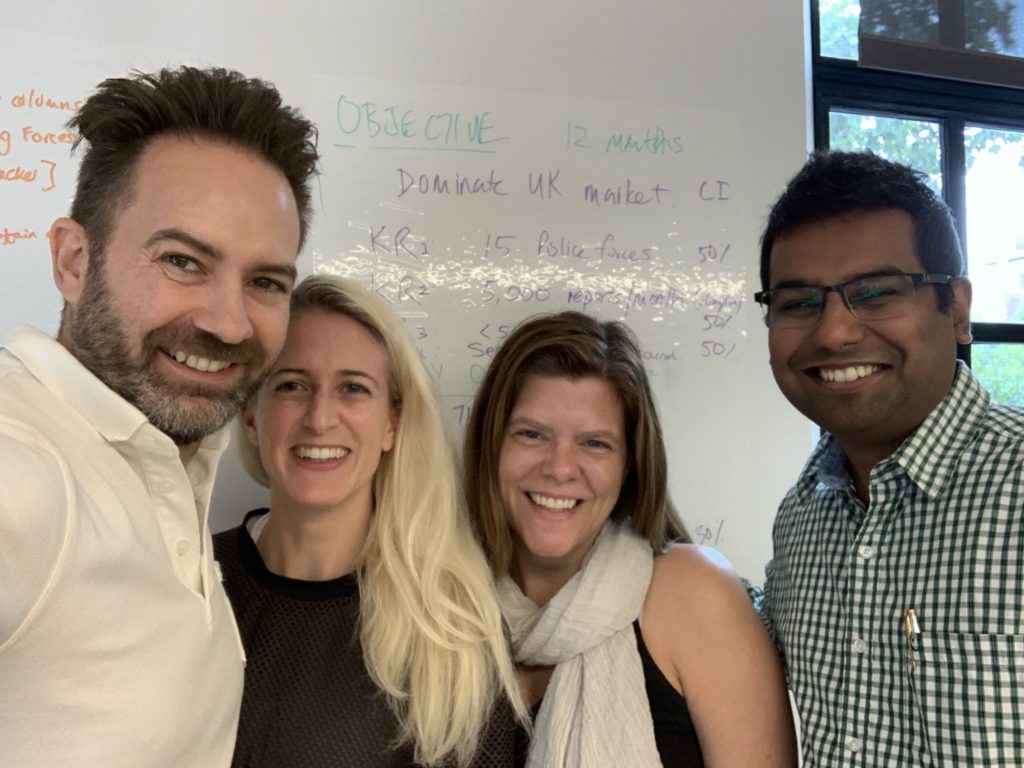 I've been fortunate enough to be reminded of the potential the future holds every day for the last nine months, as Co-founder and Chief Communications Officer at SFR Medical. And I'm extremely lucky, I know, to have a job that is secure, and work on a business that has the potential to grow, despite the COVID-19 situation.
SFR Medical is a London-based, social impact MedTech company, started by 2018 EMBAs Dr Johann Grundlingh and Suyash Shrivastava, along with Dr Lucy Grundlingh. We want to bring speedier justice to all victims of all crimes, an issue that has been put front and centre because of the recent, horrific events in Minnesota.
Streamlined Forensic Reports
The first service we've brought to market is the production of Streamlined Forensic Reports (SFRs). We turn hospital and GP medical notes into court-ready SFRs, which are medical evidence reports written for the police and used to charge suspects with crimes.
The current process to obtain these reports from individual doctors is arduous, complex, and time-consuming. Our operational and software improvements help the police charge suspects quicker, ensuring that assailants are detained and not released to re-offend. To date, we've reduced average waiting times for reports from 67 to just five days and introduced an 84% cost savings for UK police forces, our clients.
When I joined the company in August 2019, I, along with some others who knew about the business, wondered, "wow, that's an amazing service, but is it too niche a market? What is the growth potential, and are there other products that could complement the current offering?" Even with these questions, I was honoured and excited to be a part of a company that was bringing real change to a system that had been broken for so long and making a difference in people's lives.
It was through conversations with other Incubator companies, along with Jane Khedair who manages the LBS Incubator, Jeff Skinner from IIE, and John Bates (disclaimer: John is the Chairman of our board), that I realised the company is so much more; fundamentally, our core offering is the ability to translate medical jargon into a coherent narrative using everyday English, which allows anyone to comprehend what transpired at, and resulted from, a medical examination. The potential applications are endless, from mental health assessments to wound classification to firearms licencing to insurance company claims, and so many more opportunities we haven't thought about.
The LBS Incubator journey
Being a part of the Incubator has also provided us with a tremendous amount of exposure, from LBS promoting our business to facilitating introductions to leading industry experts in pricing, marketing, operations, finance, and legal. We've learned so much about what it means to be a founding team and how to have hard conversations. Creating a business development strategy, improving our operational efficiency, and identifying the right technology are challenges which we will continue to face in the coming months as we scale the business.
While we haven't been able to interact with our fellow Incubator companies in person for a few months, the time we spent in 'The House' – the School's on-campus incubator facility – together was invaluable as were the relationships we developed and continue to nurture.
Looking ahead
All of these are things we hope to build and expand on by participating in the Santander Universities Emerging Entrepreneur Programme 2020. This programme has also gone virtual, and we've had the chance to connect through online sessions with start-ups across the UK, companies in numerous industries and various stages of development. Not only are we looking forward to learning from them, but the resources that Santander Universities provides access to will help us achieve our goal of contracting with 30% of UK police forces in the next 12 months.
The programme officially launched on 20 May with a session on how to scale a business during a recession, and another which helped us break down our elevator pitches to make them more effective and succinct. And there is so much more to come over the next four months before the programme culminates in a pitch competition, where finalists compete for up to £90k in grant funding. Winning this prestigious award will help in so many ways but primarily, it will enable us to undertake a vast research project to measure the impact of our work. If we can show a positive correlation between our service and improvements in the criminal justice system, there is an opportunity to continue to disrupt the system.
Our new reality
Being part of both the Incubator and SUEEP20 has and will continue to help us learn how to pivot when unforeseen events happen. The unexpected COVID-19 situation has affected parts of our business but not necessarily in negative ways.
The lockdown here in London has pushed us to find new ways of connecting with potential clients. Through negotiations conducted over Microsoft Teams calls, we contracted, onboarded, and launched with a new police force, and have verbal agreements from four more. Conversations with several others are continuing, with all involved parties adapting to new ways of communicating.
Through conversations with our clients, we've heard that the rules for medical evidence are being relaxed as frontline officers' responsibilities are reprioritised. This may enable the unwarranted release of suspects, cause needless anxiety for victims, and further delay cases as the courts reopen.
And through all of this, we have started brainstorming about what else we can offer to our clients that supports our mission and helps them achieve their goals.
Things are surreal right now, but what keeps me going is knowing that what we do can make the world a better, and safer, place.
"If the road is easy, you're likely going the wrong way."
― Terry Goodkind
Thank you, LBS, the Institute of Innovation and Entrepreneurship (IIE), all 2019/2020 Incubator companies, Jane Khedair, Jeff Skinner, John Bates, Rupert Merson, Jessica Spungin, Santander Universities UK, Kevin Bardwell, all of our angel investors, and so many others who are supporting us.