Every year LBS students get the opportunity to work with high-growth start-ups as part of the Seedcamp – LBS internship collaboration. Seedcamp is Europe's seed fund, having invested in Europe's most exceptional entrepreneurs including the founders of UiPath, Revolut, and Sorare. In this post, we hear from two interns, Nina Cardelus and Gene Barrett, who went through the programme recently as they share a snapshot of their typical day.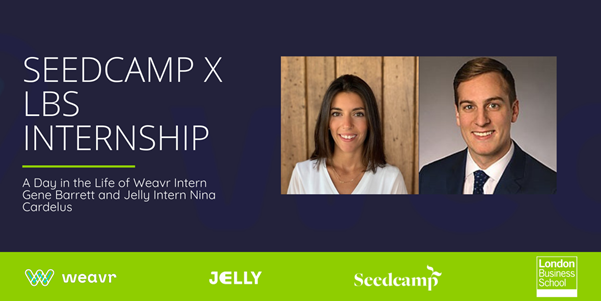 Nina Cardelus – Jelly
I have been doing a part-time internship at Get Jelly since April 2021. Get Jelly is the fastest-growing costing tool for chefs in London. While every day here is a bit different, I will try to give you an idea of what a typical Monday is like.
6.30 a.m. My alarm goes off, I wake up and I go for a run in Hyde Park if London's lovely weather allows it. When I get home I shower, have my breakfast, and get ready for the day.
8.20 a.m. I live on the west side, so I take the Central Line to Bank and then walk to the offices, which are located on the top floor of a building in Bermondsey St, the nicest street in the London Bridge area!
9.00 a.m. When I arrive to the office, I first check my email and slack messages. Every day at 9.15 we have a 15-minute call with the commercial team to discuss how are we doing in terms of sales and lead generation. As the company scales, we continuously monitor and test our growth channels to optimize them.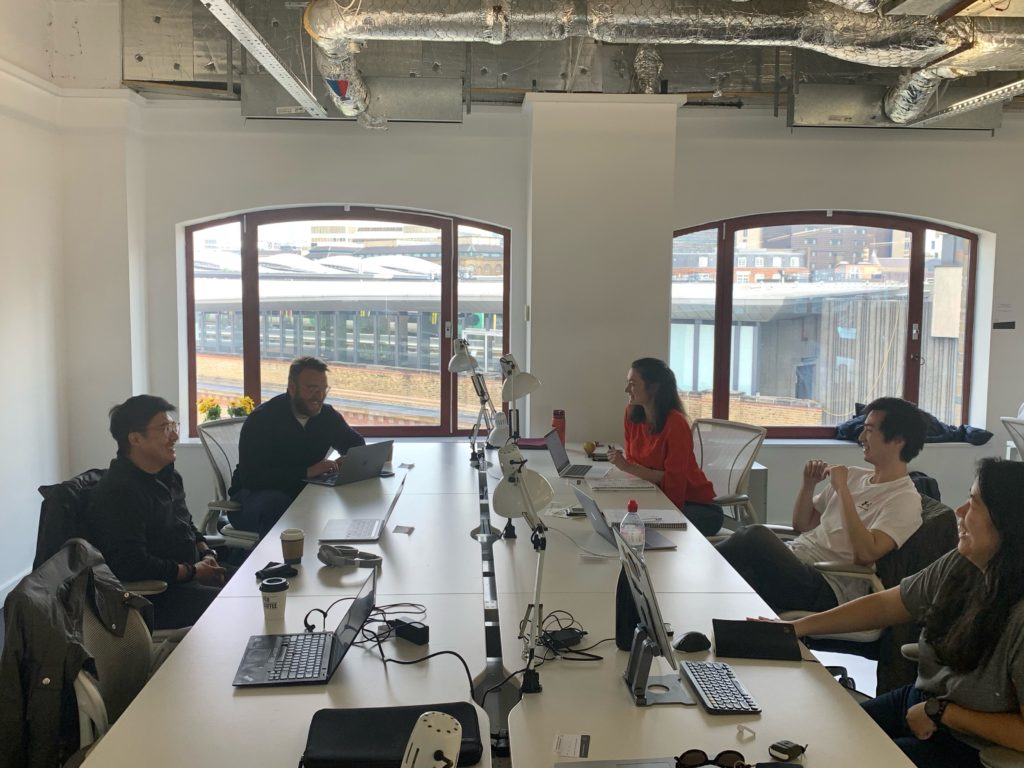 9.30 a.m. Once a week the commercial team meets again for a weekly sales experiment. We first discuss the previous week's actions and if they worked, we establish them as new best practices. Following this, JJ, the founder & CEO, brings one topic that is currently not working and each of us takes a few minutes to brainstorm ideas to improve it. We then vote and discuss the most liked actions and test them during the following week.
10.15 a.m. Following the morning calls, I get to work on my tasks. One of the best things of working in a start-up like Jelly is that I have a chance to work on different projects from different areas. Some of my projects include defining a strategy for referrals as a growth channel, shipping a survey to gather product feedback, or preparing the company for its next fundraising. As the company grows, we continuously run A/B on most of our tasks to define best practices – e.g. how to maximize the number of respondents on a feedback survey?
1.00 p.m. Lunchtime. We usually go for a walk and grab lunch at any of the numerous choices in Bermondsey Street and take it to the office. The office is next to a small park so we might decide to eat our lunch there when it gets warmer.
1.45 p.m. Shortly after my lunch, I get back to work. I usually meet with Tom, Head of Product, or Nic, Head of Commercial, as part of my projects.
5.45 p.m. I have a weekly catch-up with JJ to discuss the highlights of my week and any upcoming projects.
6.15 p.m. I head out now! My evenings during the week are spent grabbing a drink with friends or co-workers, catching up with work from the MBA and cooking dinner.
I hope this has given you a better idea of what it is like to work as an intern at one of the fastest-growing early-stage start-ups in London. If you see yourself working on this fast-paced working environment where all ideas are welcomed, do not hesitate to reach out to me.
Gene Barrett – Weavr
Since late February this year, I have been doing an internship at Weavr, an embedded banking provider that makes it quick and easy for any business to integrate financial services within their platform. I work under the Chief Commercial Officer and the Marketing Lead. Every day is different, but in this post, I will share what a typical Monday at Weavr is like!
7:30 a.m. My alarm goes off and I begin my morning routine:
Drink a glass of water.
Throw in my airpods and listen to The Daily by the New York Times while walking to a local coffee shop (Ok… Pret…).
Drink my morning coffee.
8:30 a.m. I start my workday by checking Slack, reading my email, and scanning my to-do list. I'm subscribed to a number of daily news briefs from sources such as The Economist, PitchBook, and Term Sheet. I use these sources to keep up to date on trends, competitors, and upcoming events.
9:00 a.m. I join the marketing and sales team stand-up attended by team members located in the UK and Germany. The meetings are focused on executive-level updates (e.g., growth plans, organizational updates, feedback from seed investors), sales and leads tracking, and a round-robin on the top three things everyone on the team aims to accomplish.
10:00 a.m. Following the marketing and sales team call I dive into the work tasks I need to accomplish that day. I am supporting the marketing and sales team with a go-to-market project, researching the verticals within their addressable markets, identifying the most attractive and ready-to-serve verticals, and developing a go-to-market strategy.
12:00 p.m. Get out of my flat for some fresh air, lunch, and a walk through Hyde Park with my wife and our dog, Rocky!
1:00 p.m. During the afternoon I typically continue work started in the morning, meet with a Weavr team member, and have a 1-on-1 call with my manager.
When I meet with Weavr team members I (a) share updates and get feedback on my project: most of the team members have a decade + of experience in payments and/or fintech (b) build strong working relationships.
During the 1-on-1 call with my direct manager, I share my research results and discuss the next steps on the project plan. Additionally, she helps provide context into how I can align my work with the sales and marketing strategy. This conversation helps me move my work forward and prepare for review meetings with Weavr's CEO.
6:00 p.m. I wrap up work by sharing my latest project files and then I switch over to completing London Business School course work. My courses complement my internship, including electives on topics such as the Future of Work and Managing Growing Businesses.
Applications for the Seedcamp x LBS Internship Programme open back up in December 2021. Keep an eye out on the LBS Careers website for more details.
---
If you liked this, you might like Start-up Internships: Reflections from our business school students.
---
About the authors:
Nina Cardelus is a first-year MBA candidate at London Business School. She started her career in investment banking and then joined the Corporate Development team at Glovo (a Spanish unicorn). She has 5+ years of experience in fundraising and M&A.
Gene Barrett is a second-year MBA student at London Business School with a background in corporate finance and management consulting. His professional interests include fintech, business strategy, and finance transformation.