The Institute of Innovation and Entrepreneurship (IIE) is delighted to announce the launch of the 'Expert in Residence Programme'. Providing expert professional help to current LBS students, the initiative is aimed at startup founders and new entrepreneurs seeking advice in specific business areas.
IIE Director Jane Khedair, who is heading up the programme and who also leads the school's Incubator programme, said: "We are really excited about this new initiative. The Expert in Residence Programme will provide access to world-class knowledge across a range of pertinent specialist subjects to help students launch and grow their own ventures."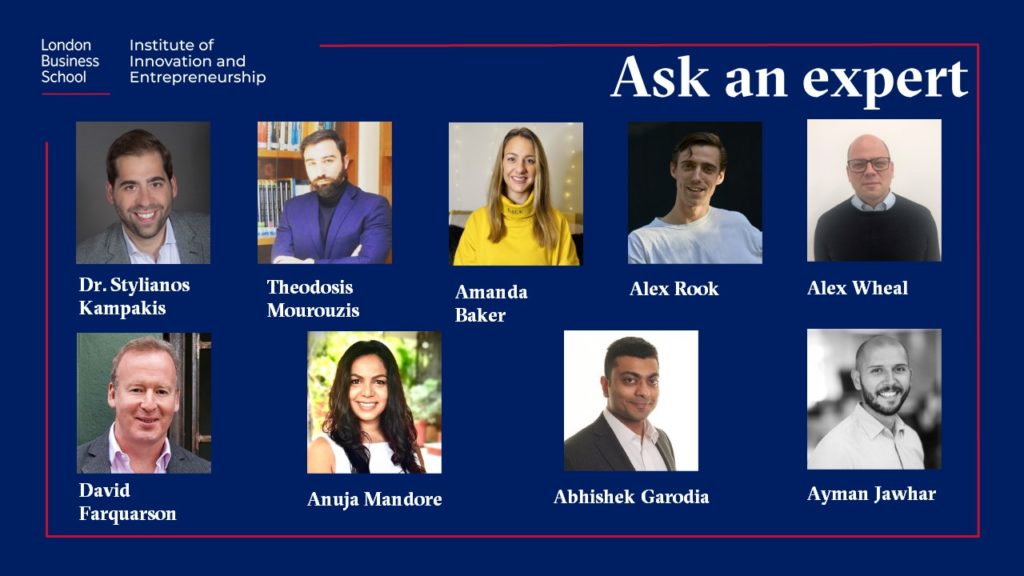 The experts cover a huge range of subjects that are highly relevant to early-stage entrepreneurship, from artificial intelligence and machine learning to branding, digital marketing, operations and logistics – plus, of course, all the typical business areas founders need advice in, such as insurance and legal affairs.
LBS has been championing entrepreneurship for more than 40 years and has an incredible track record in helping founders launch businesses. Students can learn so much from those who went before them, and this initiative is aimed at helping them access hard-earned knowledge and nous that might otherwise take years to acquire – besides costing a ton of money!
We hope the programme will help us continue to break down the barriers to entrepreneurship that students can often face. The programme is in its initial phase and we will grow it based on the evolving needs of our startup founders.
The new mentors include:
"I would like to extend a very warm welcome and our deep gratitude to our experts in residence, who are generously giving their time and expertise to support participating students. They include some of the UK's successful leaders in their respective fields, and they have all been carefully selected to provide a safe and trusted environment for our entrepreneurs, who would otherwise be unable to access expertise of this nature," says Jane Khedair.
"I'm excited to join London Business School, among the most prestigious business schools in the world. The timing is of essence as the world is undergoing a massive digital transformation and working with entities and startups of high calibre is exciting and of paramount importance. From my side I will aim to contribute to the maximum degree with my knowledge in Blockchain, a novel technology that over the past decade went from hype to reality " says blockchain expert Theodosis Mourouzis, PhD.
Dr. Stylianos Kampakis, our AI and Machine Learning Expert, adds: "London is one of the most entrepreneurial cities in the world. Having dedicated my whole career to helping out entrepreneurs and startups with data science, I feel that participating in the LBS expert pool is a natural step. Not only I am excited to assist world-class entrepreneurs in achieving their dreams, but I am also excited about the ideas I will be exposed to."
The Expert in Residence initiative is open to existing LBS students and sessions take place on a by-request basis.
Current LBS student participants can find further information about the experts, including their contact details, and booking and preparation guidelines on the Career Centre Entrepreneurship pages.
Alternatively, for general startup advice, students can check out the 'Entrepreneur Mentor in Residence Programme' and book a session with a school alumnus who can provide more generic entrepreneurial advice and support.