Many people will remember the late Professor Michael Hay who was a major champion of entrepreneurship at LBS over many years and pioneered so many early initiatives that established entrepreneurship teaching and new venture support at the School. He also played a leading role in establishing London Business School's Institute of Innovation and Entrepreneurship in 2010. John Bates, a contemporary of Michael and another stalwart of entrepreneurship recollects…
I developed and taught the first New Venture Development class at London Business School in 1986 while fundraising and starting my own first tech venture in Cambridge. Although I had an MBA from Harvard and a couple of years' experience teaching Business unit and Corporate Strategy at both HBS and LBS as a 'bought in' teacher, I was really making it up as we went along. Over the next decade I was joined by Michael Hay and Rob Johnson as regular faculty and Maurice Pinto as an Adjunct Professor to develop a broader range of Entrepreneurship electives and critically our own cases covering start-up, growth and financing. Encouraged by a delightfully laissez faire Strategy Subject area Chair, John Stopford, and the benign neglect of the Dean, George Bain we were able to bootstrap our 'guerrilla' activities into a coherent 'core' elective portfolio of practitioner focussed material that exists to this day.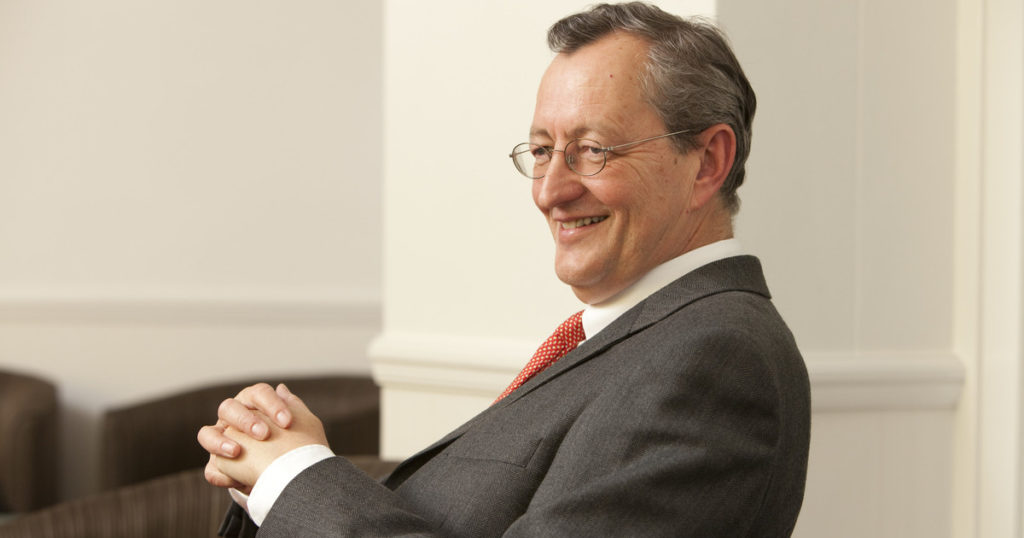 Michael Hay joined the LBS faculty after completing the Sloan Masters programme following a stint as managing director of Marston Book services (the wholesale division of Blackwell's) about which he wrote a great case.
Working with Michael was a delight: We were the same age but where I was impetuous and overtly commercial he was calm and measured, urbane and politic but equally passionate about the practitioner led approach to business education supported by relevant research which made for a joyful partnership cut short all too soon. His two favourite observations were that his PhD on madness in Victorian society made him eminently qualified to understand academia and that teaching and case writing for Entrepreneurship allowed him to avoid the treadmill of writing articles for the journals of the obscure!
Foundation for Entrepreneurial Management
The Foundation for Entrepreneurial Management (FEM) was created in 1996 by the initiative of a small group of governors, faculty and supporters led by Ian Laing, Michael Hay and Michael Stoddart. Initially this was called the FEM council, which gradually grew to a group of over 30 members. Shortly after my appointment as Executive Director in 1997 the council was split into the Enterprise 100 (supporters) and the FEM Executive which would act as an informal supervisory board, fundraising body and guide for the development of the FEM.
The mission as laid out in the business plan presented by Michael and me to the FEM Executive in November 1997 was:
"For the Foundation for Entrepreneurial Management and London Business School to be the recognised European centre of excellence for Research, Teaching and Practice of Entrepreneurial Management and a leading International centre for the study of Entrepreneurship through:
research and teaching of best practice in entrepreneurial management
provision of support and advice for entrepreneurs and their backers
carefully targeted direct investment in promising individuals and teams"
Entrepreneurship as a subject area
Entrepreneurship became a subject area in 2001/2 with Michael Hay as chair and we should be enormously proud of all that was achieved under his leadership: The subject area review in 2003 noted the critical foundation achievements that have stood us in good stead today.
The appointments to the Entrepreneurship teaching team i.e. Martyn Williams, Keith Willey, Rupert Merson and John Mullins, who significantly strengthened our teaching capability and ensured our 'core' elective courses were consistently represented in the 'top ten' at LBS.
From less than 400 course places in 1997/8 we would deliver over 900 in electives (over 1000 in all) in 2002/3 or 11% of all electives. Not only did our 'core' multi-stream electives (New Venture Development, Financing the Entrepreneurial Business and Managing the Growing Business) continue to grow in total but our new courses (New Technology Ventures, New Creative Ventures, Social Enterprise and particularly Understanding Entrepreneurial Management and Entrepreneurship Summer School) became enormously popular. All these courses were taught with most cases developed with support from the FEM.
The development of over 40 new cases and technical notes. Relevant research (particularly LBS participation in the Global Entrepreneurship Monitor project) was supported by over £1,000,000 of donations from individuals (including FEM executive members) the Strategic Partners Network and Enterprise 100 who also funded the annual Eposium; the Entrepreneurship Summer School; and LBS student participation in the leading European and Global business plan competitions where they consistently achieved high rankings.
Over 2000 individual LBS students were exposed to FEM supported activities during this period, with a significant number educated and inspired in ways that created a new generation of successful Alumni entrepreneurs.
Sussex Place Ventures (SPV) and the Gavron Business Centre (our first incubator) enabled 24 new LBS-related companies to get started with over £7m of direct investment, subsequently raising over £50m in financing from other institutional and private investors. SPV also provided feedback, advice and guidance to over 600 other individuals and teams who came to us for an honest but supportive assessment of their business proposal.
with £10m of Government funding places LBS at the hub of the London innovation cluster for technology-based enterprises.
SPV, E100 and the Gavron Business Centre played a catalytic role in the development of Entrepreneurship at LBS and the companies it has backed will provide a rich mine of case studies and role models in the future that will be a fine testament to Michaels vision and energy.
---
About Professor Michael Hay
Michael was formerly a Professor of Management Practice in Strategy and Entrepreneurship and Area Chair in Entrepreneurship. He was a Sloan Fellow who joined the LBS Faculty in 1987 and held a variety of positions including: Director of the Foundation of Entrepreneurial Management; Associate Dean of the Sloan Masters Programme; Dean of Executive Education and an Academic Director of the Institute of Innovation and Entrepreneurship at LBS. He was also Deputy Dean and Secretary of the School for five years from 2001-2006.
As Deputy Dean during Laura Tyson's tenure, he worked tirelessly to position LBS as a leading global business school. He played a leading role in establishing the Institute of Innovation and Entrepreneurship in 2010. His important legacy includes co-founding the Global Entrepreneurship Monitor and most recently his work on the Business Bridge Initiative in South Africa, developing a model to deliver high-quality business education at low cost on a mass scale, augmented by face-to-face teaching and distributed through a global network of physical hubs. 
We are inviting alumni, faculty and staff to share messages or memories of Michael in this digital book of condolence which will be presented to his family at the end of February.
About the author
John Bates is a former Associate Professor at London Business School where he created and taught the New Venture Development, New Creative Ventures and Managing the Growing Business electives since 1990. He was on the Board of MultiMap before its sale to Microsoft and is on the investment committee of the Angel Co-Invest Fund.