Beenu Arora EMBA2020 and Manish Chachada EMBA2020 share the wisdom they have acquired since founding cybersecurity startup Cyble in April 2019.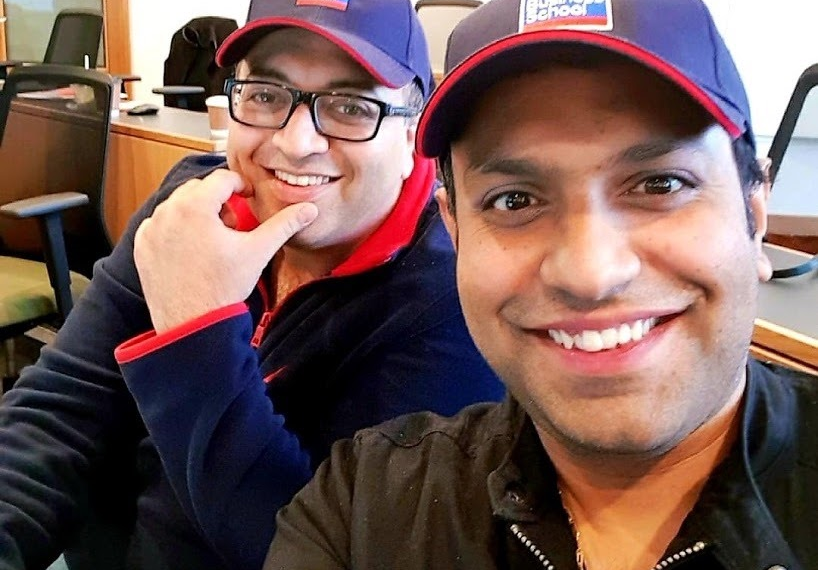 This much we know
Get the business fundamentals right and the funding will follow
Beware the fine print – VCs may want to throw cash at you, but don't take the 'easy' money
The best source of funding is your customers
Culture matters – be empathetic with your teams or risk losing them
Make people see they are doing something valuable
Don't sit around when you feel discouraged – be proactive and do something/anything. It will make you feel better!
Don't constantly think about what you could do – focus on your strengths and how to exploit them
Keep an open mind about everything, all the time
Every day is different – and tomorrow is a brand-new one
Love the challenge – otherwise you should not be doing what you're doing
If you had never met Beenu Arora or Manish Chachada, co-founders of Alpharetta, Georgia-based cybersecurity startup Cyble, you might be forgiven for thinking they are typical representatives of the current generation of entrepreneurs. Leading business-school education? Tick (both London Business School alumni; CEO Beenu also passed through Columbia Business School). Prestigious accelerator-programme graduates? Tick (Y Combinator, no less). Backed by leading VCs? Tick (Blackbird, Xoogler, Spider Capital and others). Heavy tech knowledge? Tick (ex-software engineer Beenu has some 17 years of experience in the cybersecurity industry). Deep business experience? Tick (COO Manish has an extensive track record in international finance and operations, including capital raising at a global level). And so the list goes on.
But talk to them about their journey to founding Cyble (it's pronounced to rhyme with "bible") and it quickly emerges that they are far from typical entrepreneurs, if such a thing there be. For his part, Beenu freely admits that his main motivation for going to LBS was that – despite having always had an entrepreneurial spirit – he lacked the confidence needed "to make my own venture a success". The EMBA programme was to change all that: "Hearing my classmates' success stories – especially the successful entrepreneurs – gave me the chance to learn first-hand from their experiences and draw on their advice. It was a great way to learn how successful companies are made and the different approaches that enabled them to found their businesses. It was also instrumental in developing my network and expanding my knowledge in a huge variety of areas."
Crucial advice
It was also where the future co-founders of Cyble met, and where they met Murali Darapureddy, one of the company's first angel investors and without doubt the most important, as Manish recalls, "The three of us would go to dinner at LBS and Beenu and I would come up with all sorts of business models and plans. Murali basically said, "Look, stop thinking about everything you could do – just focus instead on your strengths and how you can exploit them."
It was a crucial piece of advice and one which Beenu and Manish took to heart. Drawing on their collective tech and business strengths, they scoped out a plan for an AI-powered cyber-intelligence company. Murali immediately agreed to invest in the business and Cyble was born.
Officially launched in April 2019 through bootstrapping, in April 2021 the founders announced a $4million seed-funding round, led by Blackbird and Spider Capital, which helped it achieve two years of solid growth – despite the global Covid-19 pandemic – as it expanded its client base across six countries and grew from 25 to 80 people.
The seed funding was augmented in February 2022 with a $10million Series A round, again led by Blackbird and with the continued participation of Spider Capital, plus other leading VCs in the industry.
Many startups struggle to secure VC funding, and would certainly envy the panoply of prestigious backers that Cyble has attracted but, as Manish says, it's key for a startup not just to grab the low-hanging fruit: "Actually, getting initial funding was not a major challenge for us. Because of the nature of the industry, we are in and what we wanted to do, we had a lot of people approaching us. And we nearly made the mistake of saying yes to investors when they weren't the right fit – it's really hard to say no to money when you're at that early stage. Fortunately, we stayed strong, and that would be one of my main pieces of advice to anyone looking for funding. It's really critical to only accept backing from investors who share your vision and who believe in what you are trying to do. You have to look at it like you would any long-term partnership – hopefully, you are going to be together for many years, so it's important to have shared values at the outset."
And while both cofounders are quick to acknowledge the tremendous help, in terms of both funding and advice, that they have received from their backers, they are also keen to point out that not all VCs are the same. "Beware the fine print!" cautions Manish. "Some VCs will throw money at you and make big promises, but there is a lot of BS in the industry. Good VCs don't want to run the company themselves or tell you what to do – they will just give you help when you need it and ask for it."
Generosity of spirit
Being willing to ask for help, says Beenu, is something that the 'LBS experience' taught him: "I really learned how to do that LBS. I was always 'the tech guy' and felt people would view me as an engineer first and foremost. But my cohort was amazing – people were always willing to help with mentoring and showing you how to develop business acumen. It was an enormous advantage to be surrounded by people who were so supportive and who knew how to shape the idea for the business so that it could be pitched to customers and investors."
It is a generosity of spirit that Beenu himself embodies, and one which characterises the culture that has enabled Cyble to attract and retain critical development talent. He says, "Of course, it's incredibly hard to get the right talent in this industry. I think one of the secrets to attracting talent and keeping people motivated is to make them feel they are doing something of value. All of the people who join us are highly driven and highly motivated – we all have a shared sense of purpose. The trick to keeping people motivated is to give them the freedom to work on hard challenges. That also means being willing to let them leave when the time is right. I expect we will see at least three people spin out of Cyble in the foreseeable future to do their own thing, and that's fine. It means you've got the right people on board in the first place!"
The pre-eminence of product
Another critical piece of advice for would-be entrepreneurs is to emulate what Cyble evidently did, and get the product right before looking for backers. Manish says, "You have to get all the business fundamentals in place first, then think about fundraising. That means being totally product-focused – you have to get the product right before anything else. We see so many entrepreneurs today who go about it the wrong way round. They start by asking, 'How are we going to attract funding?', then think about how they are going to use the funding to develop the product. To me, that's the wrong way round – if you get the product right, and get your go-to-market strategy right, the money will find you."
That begs the question of what the Series A round will be spent on. "It will go on driving our research, development and intelligence capabilities," answers Beenu. "When I think back to when Manish and I met at LBS and began to discuss the venture, we came up with a very clear concept: democratising visibility into the dark web. We started out more as a concept than a concrete product or service idea, but we have been able to build products that really do that, giving our customers access to real-time data across the dark web, the deep web, and the surface web that mitigate their digital risk."
"We had already become a trusted brand in the market by the end of last year – which was no easy feat as there are hundreds of cybersecurity companies out there – but this raise will give us the resources and bandwidth to entrench in our existing markets, expand into new ones and build our product capabilities through more research and development. It will also enable us to scale our products to meet evolving market needs because the threat landscape is constantly shifting."
What's next?
Coming up with a blue-ocean-industry strategy, Beenu adds, means, "having to move fast, stay agile and continuously innovate to stay one step ahead of the threat. As leaders, we are always asking ourselves, 'What's next?' To stay successful, you have to keep asking yourself that question, all the time."
If that sounds like a formula for sleeplessness to many, Cyble's founders seem to have the antidote. "You have to make sure you enjoy the journey," declares Beenu. "There's no point otherwise." It's a sentiment Manish is quick to echo: "My formula for success? Work hard, but party harder!"
Not that this betokens a lack of seriousness on their part. The press release accompanying the announcement of the Series A round in February quoting a line from Robert Frost's "Stopping by Woods on a Snowy Evening" beautifully captures Beenu and Manish's resolve to make the world a safer place: "But I have promises to keep, and miles to go before I sleep."