The achievements of two outstanding alumni who won the Accomplished Entrepreneur Awards this year build on the School's deep entrepreneurial legacy and will inspire those who follow in their footsteps.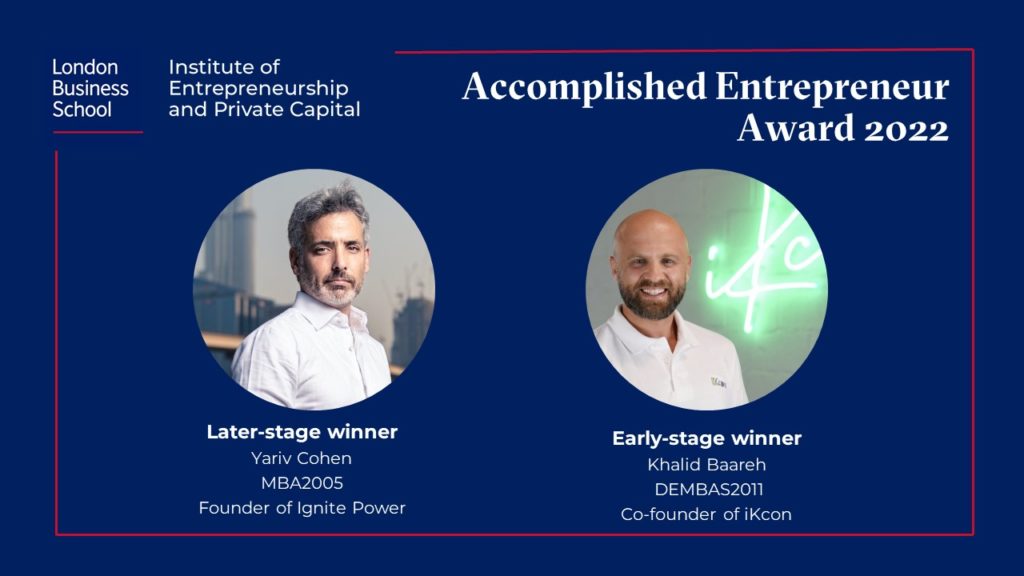 Establishing an enterprise in Africa presents multiple challenges, resulting in many companies steering away from the region. One particular risk to operations in many countries stems from lack of infrastructure ­– but Yariv Cohen was undeterred. Determined to bring solar power to the homes of poor rural communities, he co-founded Ignite Power in 2014; choosing, in true entrepreneurial style, to view the many challenges that lay ahead as opportunities to create distributed, digital infrastructure rather than threats.
With affordability in deep rural locations at the heart of its value proposition, Ignite Power connects 'last-mile' communities across Sub-Saharan Africa to provide them with clean, sustainable and – most importantly –affordable solar-power home systems, as well as other solar solutions, including irrigation and cooking.
Yariv's accomplished entrepreneur award is due in part to the innovative thinking he showed in structuring and establishing new financing schemes to allow the poorest communities in Africa to enjoy electricity in their homes for the first time. With the incumbents focused on big systems, he insisted on concentrating on small solar home systems and was one of the pioneers of results-based financing schemes.
But that is only part of the picture. To make sure Ignite is providing vital infrastructure for decades to come, Yariv has always been totally transparent in all of Ignite Power's dealings and bringing strong supporters, like the World Bank, to ensure that operations meet the highest standards of governance.
Showing total conviction in his vision, his employees and in himself, Yariv is a great role model for future generations, inspiring people around him to stand up for what they believe in and speak their truth. An entrepreneur in every sense, Yariv is creating positive change in the lives of those who need it most.
Unyielding strength of character and an entrepreneurial mindset was also key to Khalid Baareh's success in co-founding iKcon, a leading Food Technology and Cloud-Kitchen operator in the MENA region.
Launched in 2019, shortly before the onset of the global pandemic, it's something of an understatement to say that Khalid has experienced the ups and downs of building a business. Faced with unprecedented difficulties, Khalid was laser focused on supporting restaurant operators while delivering operational excellence and developing proprietary technology via the evolution of data analytics and process automation as key differentiators in the industry. He had to drive a process of almost constant change and adaptation to ensure the business's continuance. Staying calm and rational, he focused on workforce protection, improved communication with all stakeholders, and successfully managed to raise the Series A funding round.
While the world – hospitality especially – stood still during the pandemic, Khalid grew iKcon from a team of six and one kitchen to over 1,000 employees and 40 Cloud Kitchens in the UAE and Saudi Arabia – and by 2021 the company also managed over 100 restaurants.
That success saw iKcon acquired outright by the largest US operator of delivery kitchens, logistics and proximity hubs in November 2021, just three years after launch.
Despite the unprecedented problems he encountered, Khalid never lost focus or hope, because he believed totally in himself and his team, and their capability to disrupt an entire industry.
Jane Khedair, Executive Director of the Institute of Entrepreneurship and Private Capital, said, "It's wonderful to have Khalid and Yariv as this year's winners of the LBS Accomplished Entrepreneur Awards. Both are fantastic examples of resilient and determined founders who have been through all stages of launching and scaling a business. Their achievements extend the great entrepreneurial legacy that London Business School's community has built and will inspire others in the coming years. Their journeys exemplify the deep passion and vision they share. Both are truly inspirational individuals whom we are honored to have as alumni."