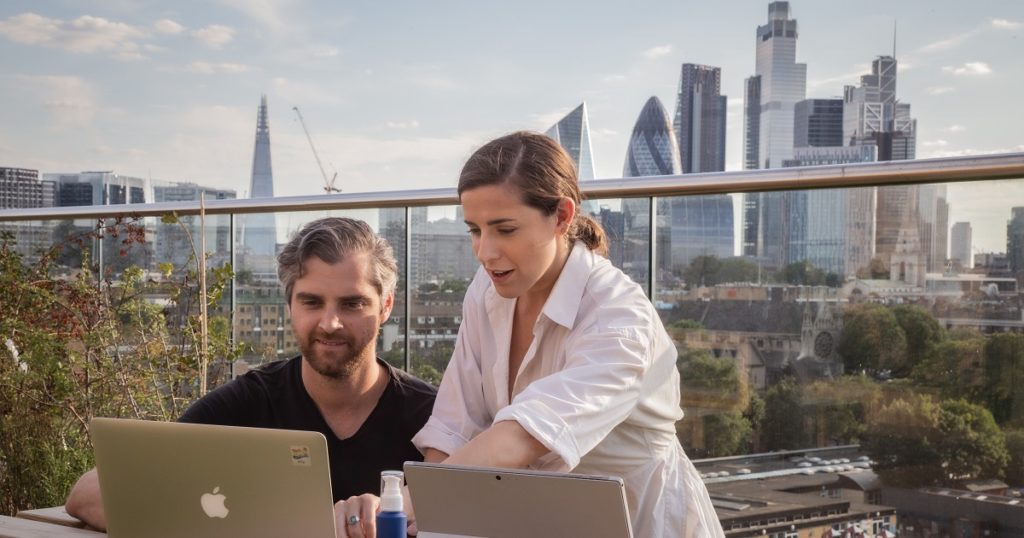 'Domination of the toilet market' is not typically an aspiration one might wish for if one associates the meaning with the commonly used English word, a noun, meaning a water-flushed bowl, cistern and seat. If, however, one assigns the meaning to the more continental, toilette, or the process of washing oneself, dressing, and attending to one's cleanliness and appearance, then the ambition is much more fathomable.
Leadership in the all-important market of intimate hygiene and cleansing, extending eventually, it is hoped, to female-friendly pH formulations and infant cleansers are the ambitions of Wype, a start-up that is the brainchild of London Business School alumni, Giorgia Granata MBA2018 and Eli Khrapko MBA2018.

Wype is an environmentally friendly alternative to wet wipes, those effective but ultimately ecologically ruinous, non-flushable cloths made of polyester and polypropylene. In place of these non-biodegradable fabrics so often responsible for creating fatbergs in domestic pipes and public sewer systems, Giorgia and Eli have invented a natural vegan gel that can be applied to regular (and biodegradable) toilet tissue.
Giorgia and Eli, who met while studying for MBAs at London Business School, come from very different professional backgrounds, but found common ground in the shadow of the mountainous 11bn wet wipes used in the UK, and the hundreds of millions that get flushed each year.

"Our gel is 99 per cent natural, biodegradable, and plastic-free which means it won't clog pipes and reduces the huge environmental problems we face from people flushing wet wipes," says Giorgia, the former Head of Product Development at Versace Jeans Apparel and a graduate of the world-famous Fashion Institute of Technology whose alumni include Calvin Klein, Michael Kors and Norma Kamali.

Moreover, the positive environmental impact of Wype is already being acknowledged, with the company winning this year's Monaco Ocean Protection Challenge. Eli Khrapko, a New Zealander, a former officer with the Royal New Zealand Air Force and an aeronautical engineering graduate of the University of NSW, says that the major concern of having wet wipes flushed into domestic pipes and public sewers is that they continually flow into river systems. Indeed, wet wipe 'reefs' are known to be having a harmful effect on the River Thames ecosystem, and with around 80 per cent of marine litter starting on land and rivers, such reefs are helping to transport non-biodegradable debris out to sea. Happily, Wype, the founders reckon, has already prevented 3.5 million wet wipes from potentially ending up in our oceans. And the environmental credentials of Wype don't end there; the Wype Gel Applicator features a patent-pending application system that is designed to be fitted with recyclable aluminium refills, thereby removing all single-use plastic from the product.
Less than a year into their venture, with their company already turning over £230,000 and having won a major international award, Eli and Giorgia present an unruffled but clearly passionate face to the challenges ahead. The challenges include, many of which have already been surmounted, branching out into the international market, growing their community of supporters and customers, prototyping designs, contemplating their market channels, expanding their product line, and engaging in a crowdfunding campaign on Indiegogo, which has recently raised £28,500 for their new product, Wype Refill. They attribute their sang-froid to a mutual appetite for the entrepreneurial, and a desire to develop a business venture with a strong environmental mission; the rest – the product development, the marketing, the design, building a direct relationship with customers – just seemed to come naturally (with, of course, a considerable amount of care, focus and late nights).
The journey Giorgia and Eli have taken over the past year has been both many and varied, ranging from a spell of ergonomics-focused prototyping and design with design agency, Morrama Ltd., to creating a fun 1950s style TV ad pastiche with 'video story-tellers' Bold Content Video Production. Both agree that the learning curve was steep, but the creative and businesses processes were helped by a different, yet complementary approach to the journey.

"Eli's more of a glass half-full kind of person, while I am more cautious in my approach – the two outlooks seem to work well together," says Giorgia.
Speaking about their time at London Business School, Giorgia credits LBS with her fluency and confidence when it comes to talking about and practicing business. With a creative background in the demanding world of international fashion, Giorgia was initially daunted by learning about the nuts and bolts of the business world. "I would never have dreamed that I would be able to talk about business affairs with the confidence that I have today."

Eli regrets that they both did not initially think of their venture while at LBS, and then make use of the many tools, networks and facilities that the School has to offer new businesses.

"We did eventually take full advantage of the excellent support offered by LBS later on, and through the backing and counsel offered by Jane [Jane Khedair, Director, Institute of Innovation and Entrepreneurship at London Business School] we were given huge support," says Eli.

Another key advantage offered by LBS has been the network of frontrunners, business entrepreneurs who had gone before them and were making a success of their ventures.

"Seeing other successful entrepreneurs provides a boost to your confidence," affirms Eli who cites a collaboration d'esprit with TreeApp, a mobile app allowing anyone to plant trees, free, every day, a venture founded and run by fellow entrepreneur and LBS alumni, Godefroy Harito.

"I believe we must have planted or pledged around 1300 trees by now thanks to TreeApp," says Eli.

It seems that the future for Wype promises to be both bright and green!
---
About the Author: Christopher Moseley is a Senior PR and Public Affairs Manager at London Business School. He has previously worked across a wide range of sectors, including in-house PR roles in telecoms/IT, defence and aerospace. He also worked for the agency, Weber Shandwick, promoting new technology business start-ups.