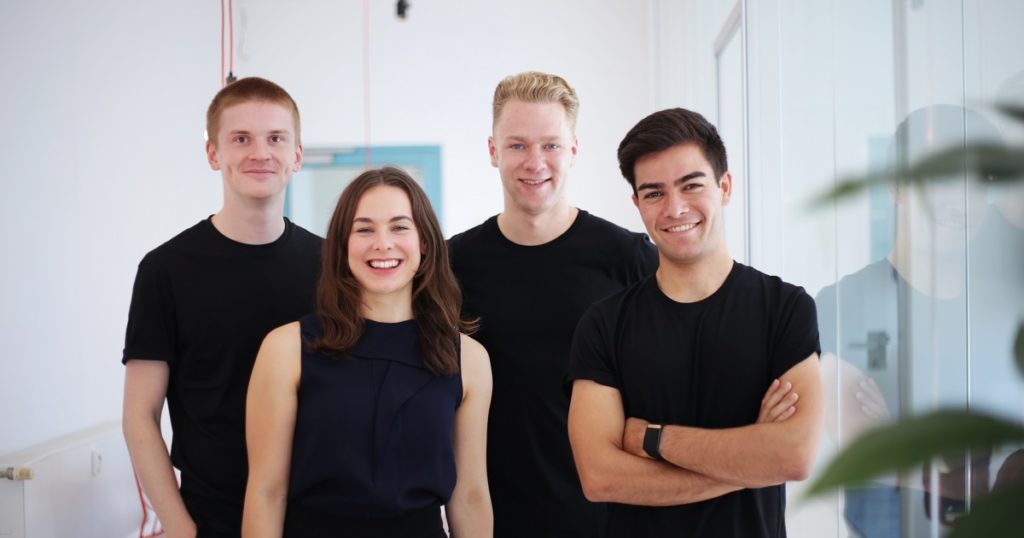 London Business School alumnus Fabian Sinn (LBS M.Sc. Analytics and Management) describes data and machine learning company Tanso as "purpose-driven". And so it is. An early-stage startup, which began life in 2021, Tanso, aims to remove structural barriers that hamper corporations from achieving climate neutrality.
Supported by leading experts and advisors drawn from the fields of ESG, carbon accounting and regulation, the Tanso team is composed of "data-driven" experts, with backgrounds in Robotics & AI, software engineering and data science.
"As technology enthusiasts, we came together to leverage the latest insights from science and state-of-the-art technology to tackle climate change," says Fabian who is CEO and co-founder of Tanso.
And Tanso is clearly offering a compelling business case. The Munich-based company has just closed $1.9 million in pre-seed funding with the aim of getting its data management support software to market in time for an expected surge in demand as sustainability regulations such as the EU's Corporate Sustainability Reporting Directive (CSRD) begin to take effect.
Sustainability reporting can be a powerful tool, providing companies with a critical overview of their economic, environmental and social impacts, caused by their everyday activities. By offering a platform to assess, manage and present a company's commitment to sustainability firms can be helped to measure, understand and communicate their environmental, social and governance performance, and then set goals, and manage change more effectively.
The Tanso team is building software to support environmental sustainability reporting for industrial manufacturers, with the goal of creating a data management system that can automate data capture and sustainability reporting geared toward the specific needs of individual sectors.
Fabian says that Tanso decided to focus on industrial manufacturing because it is both emissions-heavy and underserved in terms of the range of digital services provided to the sector.
"Requirements for sustainability reporting are only going to get broader and deeper from here on across all sectors," says Fabian.
Tanso is currently in R&D, product development phase, with co-founder and CTO Gyri Reiersen currently working with a number of manufacturers to "figure out the sweet spot" for automating data gathering so it can come to market with a scalable product offering.
The $1.9 pre-seed funding drive was led by German early-stage B2B fund, UVC Partners, with participation from Picus Capital, Possible Ventures, and a number of business angels. LBS' Assistant Professor of Accounting Dr. Marcel Olbert is also advising the team on their strategy and the regulatory environment, in particular, drawing on the latest research concerning sustainability accounting and its impact on financial decisions.
The Tanso founding team got to know each other during their studies at the University of Mannheim, the CDTM and at the ETH Zurich. There the founders, who also includes Lorenz Hetzel, Head of Engineering and COO Till Wiechmann, have already begun work on the calculations and evaluations needed to assess climate impacts on organisations.
"With Tanso we want to use the combination of data paired with machine learning and AI to support industrial companies in coping with the transition to a low-carbon economy and the increasing obligations of transparency and auditability", says Gyri Reiersen. Before co-founding Tanso, Reiersen used deep learning to research the overvaluation of CO2 certificates and carbon credits.
Speaking about the start-up's future plans and mission, and the value of the funding, Fabian Sinn, said "The central mission of our company is to remove the structural barriers that prevent companies from achieving climate neutrality. The financing enables us to significantly expand our product and software development teams in the coming year. For this, we are looking for the best talents who want to use technology to make a central contribution to climate protection and a low-carbon economy. "
Referring to his time at LBS, Fabian said, "My time at London Business School was definitely a major contributor to my decision to establish Tanso. Meeting incredibly driven and passionate people from diverse backgrounds as well as the support of the entire ecosystem have given me the conviction to tackle the major challenges in climate action heads on. I'll remain a proud LBS alumnus actively contributing to the community wherever I can."
---
About the Author: Christopher Moseley is a Senior PR and Public Affairs Manager at London Business School. He has previously worked across a wide range of sectors, including in-house PR roles in telecoms/IT, defence and aerospace. He also worked for the agency, Weber Shandwick, promoting new technology business start-ups.