Social Impact Week is the flagship conference of the Social Impact Club at LBS. The theme of this year's conference was Reinventing the mainstream, implying the sense of urgency with which firms should adopt social impact measures at the core of their business activity instead of merely paying lip service or greenwashing their way out of it. The Institute of Innovation and Entrepreneurship were proud to be part of the conference as sponsors of the TechForGood session.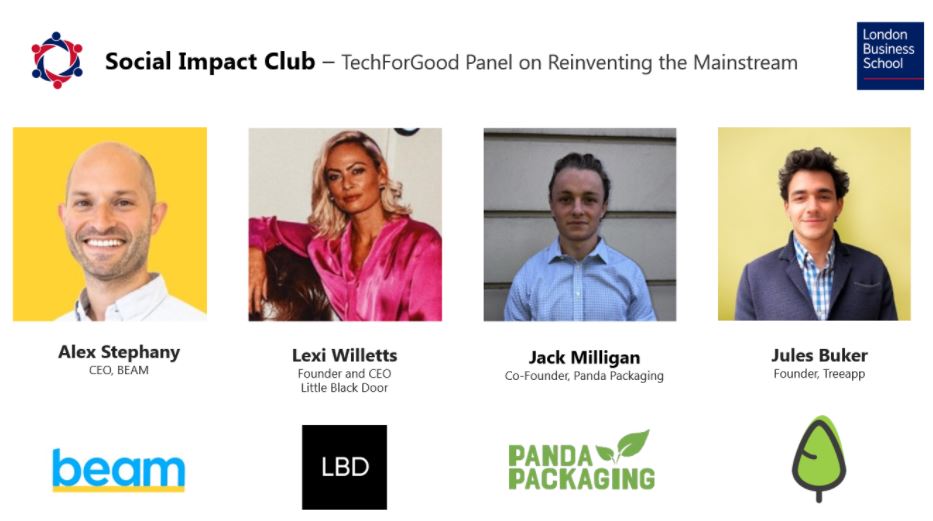 During the week, the TechforGood team planned to showcase early-stage tech startups at the forefront of reinventing the mainstream (by putting social impact activities at the heart of their businesses). Ultimately, the team decided to organize a panel discussion to get diverse perspectives across different tech sub-sectors and are excited to share learnings from founders in the industry to inspire ideas and debates on campus.
More about our panelists and their TechForGood companies:
Alex Stephany: Founder & CEO, Beam
Beam: Beam is the world's first crowdfunding platform for homeless people. Since launching in 2017, Beam has raised more than £1.5m in donations, helping hundreds of homeless people secure homes and start work in sectors facing skills shortages. Beam has won numerous awards including Best Tech for Good in Europe and Best Financial Inclusion Startup in Europe from MIT.
Lexi Willets: Founder & CEO, Little Black Door
Little Black Door: With 80bn of new pieces of clothing consumed/ year, our wardrobe ways are unsustainable. Little Black Door is a social wardrobe that's out to disrupt the way in which we engage with our fashion assets, to rethink and retrain our relationship with fashion. Their fash-tech product aims to re-engage users with clothes that they already own. It uses existing wardrobe data to fill our social wardrobe space, letting users see what they own, share wardrobes online and off, encouraging borrowing between friends and connects to resale.
Jack Milligan: Co-Founder, Panda Packaging
Panda Packaging: Panda Packaging uses the principle of biomimicry to develop sustainable packaging innovations. They are building the technology to autonomously transform purely natural materials, such as bamboo, into a range of reusable, branded products for the foodservice and hospitality sector. The company proudly supplies these products to the likes of Virgin, Nobu, Farmdrop, and many others.
Jules Buker: Founder, Treeapp
Treeapp: Founded by LBS alumnus Jules Buker, Treeapp is a mobile app allowing anyone to plant trees for free every day, in less than a minute.
Inspiring startup stories of our TechforGood founders
Alex's Beam journey started with trying to help a homeless man and ultimately launch a crowdfunding platform to help him and others at a disadvantage to becoming financially independent.
Lexi experienced trouble remembering items in her wardrobe (that led to wasteful spending) and was inspired to change things by building a fashion cataloging app to dashboard and share items online.
Jack (geologist turned entrepreneur) was in deep despair about the environmental damage caused by single-use plastic and decided to create a better cradle-to-cradle product alternative.
Jules (LBS alum) understood how it's difficult for individuals to create an impact in their day-to-day routine. This friction prompted him to build a three-sided marketplace (for users, NGOs, and brands) to empower everyone to contribute towards sustainability. Interestingly, he launched his app on Earth day in 2020 and has amassed 30,000 users so far in the UK.
Key Takeaways from the session
Our world today is very different from what it was three-four years back. Companies have a much bigger responsibility towards the world than simply paying taxes. In this regard, companies need to stop delegating social impact activities to their CSR departments and take them up more seriously. Doing good would grow their own business and create a sense of purpose for their employees and users (which is getting increasingly important). Events like BLM (BlackLivesMatter) have proven to be key turning points for impact-driven businesses and the change cycle has begun.
Consumers can be the biggest drivers of change (think consumers as activists). GenZ is actively demanding sustainable products, and companies that fail to innovate in this regard will likely perish.
Sustainability doesn't have to be sold as an add-on to consumers. Companies need to build great products that are well priced and are sustainable by default (so consumers buy such products because of meritocracy rather than sustainability). Tesla is a great example of this!
The assumption that "Tech for good companies must be charities" is a myth. Tech for good companies are mission-led businesses that can also be profitable. If companies want to make an impact at scale, they need a for-profit business model to be able to tap into capital markets. Charities have done good work historically but have never been able to scale successfully.
Conclusion
In essence, both consumers and companies will have to play a pivotal role in making social impact mainstream. Sustainability must evolve from merely being a buzzword to becoming a default in our actions to keep up with the pace of environmental change.
Each one of us can help make social impact more mainstream by starting up something of our own or by working for tech for good companies in the space. Get in touch with the tech for good leads on campus to brainstorm opportunities in the space.
---
About the author: Priyanshu Taparia (LBS MBA 2022) is the Program Manager for the TechforGood (TfG) pillar within the Social Impact Club at LBS and moderated the TfG session during the Social Impact Week.