Whittling down just under 50 applications to select the final cohort for the next Incubator programme was no mean feat this year. Whilst the criteria for selection has remained constant over the years, it's no real surprise that the growth in interest in entrepreneurship at the School has been reflected by a year-on-year increase in the number who vie for a place on this prestigious programme. In any 'normal' year this is typically met with the constraint of a maximum of 11 places being awarded, by virtue of that being the capacity of our bricks and mortar facility – affectionately known as The House. Jane Khedair, Director of the Institute of Innovation and Entrepreneurship shares more about this year's cohort and selection process.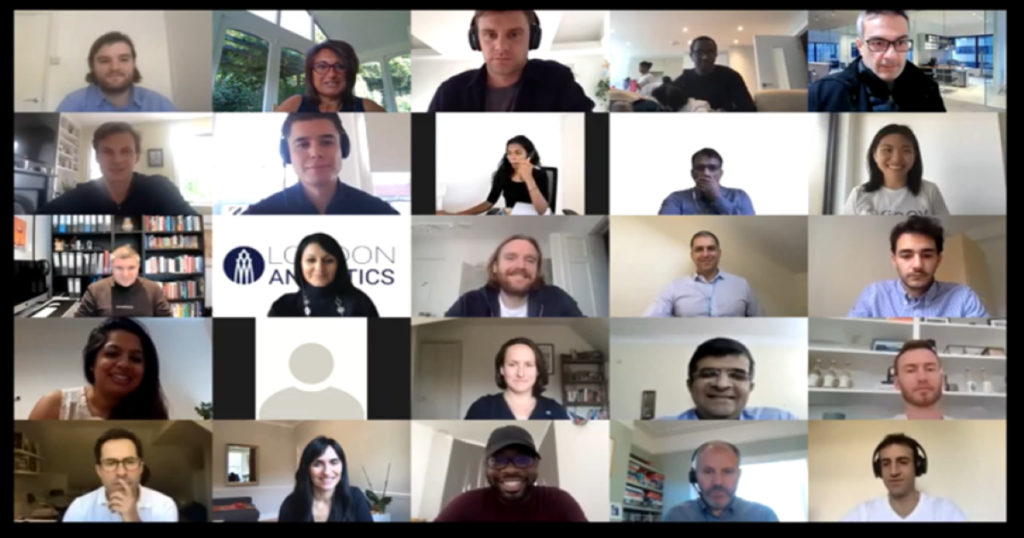 Outside the box
However, with this being no ordinary year, the fact that the programme will be run on a remote basis – for the time being at least – together with the superlative quality of our applicants, enabled our Selection Committee to be as creative as our startups. As such a record number of 14 businesses have been awarded a place in the 2020/21 cohort. Admittedly 14 isn't a huge number in itself but larger than most incubator programmes across the UK. It's also a large increase in relative terms from the usual 11 who we bring in to nurture and support for the 10-month duration of the initiative which runs until the end of July each year.
In context
To put a bit of meat on the bones, the LBS Incubator programme is now entering its eleventh year, has supported 114 companies so far which raised a collective total of £70 million, and has fueled the creation of more than 650 jobs to-date.
The accolade alone of being awarded a place has been heralded by many as capable of opening doors that would otherwise be beyond reach, let alone the huge benefits of incubation and the extent of support that is available specifically by the London Business School programme. Aside from having access to dedicated physical space, which has been put on hold since social distancing restrictions were introduced in March, each participant benefits from a content-rich schedule and a package of support worth in excess of £250k per start-up, all delivered on a pro bono basis by an extensive range of fantastic Supporters.
Support from all angles
From professional advisory support offered by expert practitioners such as Shoosmiths, Cleveland Scott York and iHorizon, to the provision of credits and free access to online platforms from AWS, Stripe, Xero, HubSpot, Dropbox and Hootsuite to name but a few, it's no wonder that winning a place each year's is met with such fierce competition. Subject-specific workshops, clinics, regular group 'Assembly' meetings and mentorship keeps the group together, maintains momentum and takes the businesses through a journey that they are able to implement as the ventures strive to attain prescribed milestones to get them to where they want – and need – to be. The evolution of the package over recent years complemented further by the invaluable support of Santander Universities, who provide bursaries to fund a number of internships within these businesses, has not only made the programme increasingly valuable over time but is clearly instrumental in providing a complete pool of resource and instruction to ensure tomorrow's entrepreneurs are given the freedom to innovate, grow and prosper.
With Tectonic, Foreground and Spacemize being new additions this year to provide free access to an innovative primary market research platform, branding expertise and remote working space (for the days when meetings between the team and its customers or investors needs more than a Zoom call) respectively, the package of support really is more complete than ever.
Although some may say there's no such thing as providing an early-stage business with too much resource, I would argue that incubation should be regarded as just that. Giving startups a helping hand is the basis for incubation rather than providing life support that artificially keeps them alive way beyond their viability, only to find that their longevity is cut short as soon as the padding is taken away. It's certainly a fine line but separates the wheat from the chaff.
Matched by a diverse group of startups…
Successful businesses making up the 2020/21 cohort are drawn from a broad range of industries including finance, retail, philanthropy, automotive, health and beauty, and food and beverages. Equally, the founders of the businesses come from a full spectrum of LBS programmes with representation from the School's MBA, MiM, MiF, EMBA, and Sloan classes.
Audrey Koh, CEO of figgy, an early-stage, pre-launch, UK startup in the health and beauty tech sector, is "…very excited to be a part of the LBS Incubator programme. The School's brand, resources and network of LBS experts will be invaluable in helping to change the way people access information and make decisions on acne treatments."
Sabino Correa (SLN2019), co-founder and CEO of Immunie, a digital vaccination records network powered by Blockchain, claims that "the LBS brand will be extremely beneficial to Immunie and we hope to positively reinforce that brand through the success of our venture."
Mike Gammell (MBA2018) is founder of Days, an independent beer business that aims to change the way the world consumes beverages. "Using locally sourced Scottish water and malt barley with a unique double fermentation brewing process that never produces alcohol we have created a range of crisp, fresh and sessional alcohol-free beers that pair with our consumer and their lifestyle. We're looking forward to learning how we can further develop our brand, and grow our market share through the LBS Incubator programme."
An exciting year ahead
With the economy being a challenging one and so much of the coming year having been thrown into uncertainty, the opportunity to run an enlarged Incubator programme is clearly one upside which I'm very excited about.
The strength of the cohort and breadth of our quality Supporters alike will make 2020/21 a very rewarding year on so many levels. With the Incubator programme having grown so much over recent years – both in terms of stature and offering – I'm probably showing my age when I adopt the adage of the late '70's soul classic 'Ain't No Stopping Us Now'. For those who remember it, I hope it sums up the feeling of foot-stomping positivity that is mirrored by the great businesses in this year's Incubator programme; the showcase of entrepreneurship at London Business School. For those who don't, please take my word for it as it's going to be an exciting year ahead.
---
About the author: Following an education in business law, Jane spent eight years as an international credit analyst and corporate loan officer in the City of London.
After founding Business Plan Services ('BPS') in 1991, which helped companies for over 20 years with business planning and proposals for bank finance, business angel funds, venture capital and grants, Jane became one of the UK's leading authorities on business planning. Jane is co-author of the leading book Successful Business Plans and was a guest speaker on BBC Radio 4 on the subject as well as giving regular talks at business conferences and workshops. Since joining London Business School in 2013, Jane has supported entrepreneurial students by developing and delivering initiatives such as the Entrepreneur Journey events programme, the Entrepreneur Mentor in Residence initiative and the Summer Start-Up Experience. As Director of the Institute of Innovation and Entrepreneurship at London Business School, Jane also chairs and runs the School's Incubator programme to provide a full programme, support package and space for the Incubator businesses as well as access to a full range of professional experts.
In addition, Jane manages Enterprise 100, London Business School's business angel network, which she set up with faculty more than 20 years ago. The network provides early-stage funding for many of the School's entrepreneurial ventures.