Innovation rarely keeps to a plan. It evolves at its own pace – guided and fed by entrepreneurs who understand its true value. The Real Innovation Awards is London Business School's annual celebration of business innovation as it really happens acknowledging not only success, but also persistence, serendipity and reinvention. The following article shares highlights about this year's program, the fifth annual, which will take place on 10 December 2020. Register HERE!
In case you missed it, watch the awards HERE!
The LBS Real Innovation Awards were created to celebrate the people and organisations who exemplify the fundamentals of innovation. Over the summer, the Institute of Innovation and Entrepreneurship and a panel of experts selected finalists out of over 500 stellar nominations. Most of these nominations were submitted by London Business School students from all over the world. Therefore, these awards are truly global. The winners will be revealed at the upcoming live virtual event.
Consistent with many other aspects of life, innovation looks a bit different this year. Businesses of all sizes have faced unforeseen circumstances requiring leaders to think outside the box. Innovation has been more important than ever!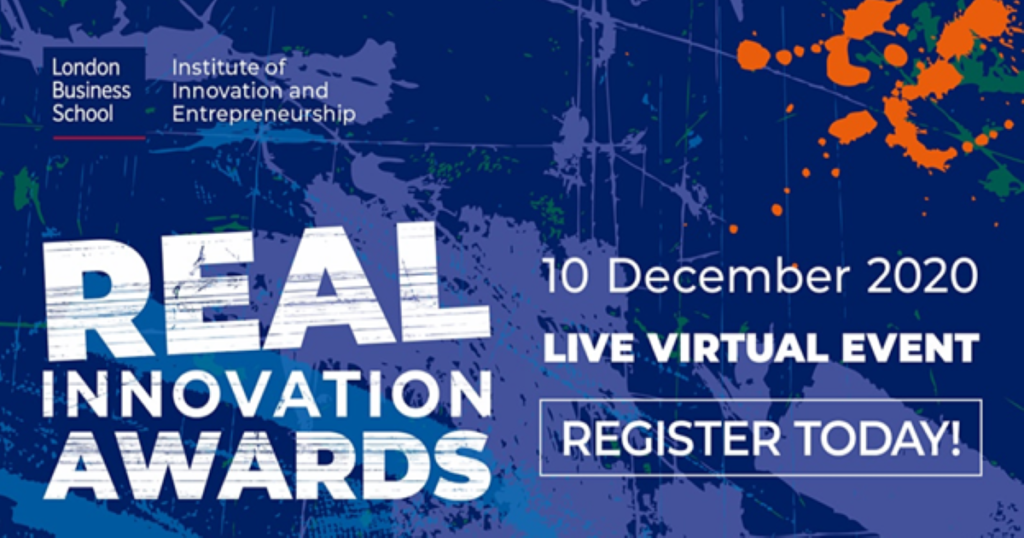 The 2020 awards categories and submissions reflect this challenging environment.
The virtual event will be hosted by Julian Birkinshaw, Professor of Strategy and Entrepreneurship and Jeff Skinner, Executive Director of the Institute of Innovation and Entrepreneurship. The two will announce the winners and share the unique journeys of this year's award recipients. The centre-piece of the event will be a live discussion on Innovation in Adversity. This is a new award category this year, and a very topical issue in today's Covid world. Why do we see so much innovation under conditions of adversity? And what unique challenges do innovators face? These are the questions Julian, Jeff and two invited panelists will discuss.
Key awards themes include:
Building businesses from unexpected circumstances
The Alexander Fleming Serendipity Award is named after Alexander Fleming who accidentally discovered penicillin.
Finalists: Agromillora Group, bio-bean, Instabug, Invisibobble, Swiss Vault Systems
Quick moving leaders who seize opportunity
The Best Beats First Award is for a company that recognized an emerging market, took advantage of the opportunity and became prominent in the category.
Finalists: Bloom & Wild, BrewDog, Down Dog, Duolingo, Term Finance Holdings
Determination and perseverance
The George Bernard Shaw Unreasonable Person Award is named after George Bernard Shaw, who said that "progress depends on the unreasonable man (or woman) – the person who persists in shaping the world rather than letting it shape them."
Finalists: Tomilola Adejana (Bankly), Abbas Dayekh (OyaNow), Charles Macharia (Mash Foundation), Simon Mottram (Rapha), Alexander Rinke (Celonis), Sim Shagaya (uLesson)
Quick pivots to match the speed of change
Harnessing the Winds of Change recognises those who identify trends quickly enough to take advantage.
Finalists: Avataar.me, De Correspondent, Lemonade Insurance, Vault Platform
If at first you don't succeed, try and try again!
The If at First You Don't Succeed Award acknowledges leaders who have incorporated learnings from past failures into successful outcomes.
Finalists: Arth, Field Intelligence, Perkbox, Segment, Swiggy
New Category: Innovation in the face of adversity
The Innovation in Adversity Award recognises companies that have addressed an emerging societal need with their businesses.
Finalists: Arçelik, Batec Mobility, Bit Source, Cheetah, Warrington and Halton Teaching Hospitals
In addition to the upcoming Real Innovation Awards, the People's Choice winners for these categories were announced in October. Check them out HERE.
---
To learn more about the LBS Institute of Innovation and Entrepreneurship, please visit our website.