Founded by LBS alumni Caroline Williams and Mary Liu, junee is starting the *reusa-bowl* revolution with a borrow-and-return system of takeaway packaging that employees can use for their workday lunch. As an early-stage tech-for-good startup, junee is supported by Innovate UK, WeWork, Huckletree Alpha, Mayor of London, and Sustainable Ventures. The founders took home in November the Female Founder Award from Stage Two.
We recently met with Caroline to learn more about their experience with LBS Launchpad and hear about what's next for their business.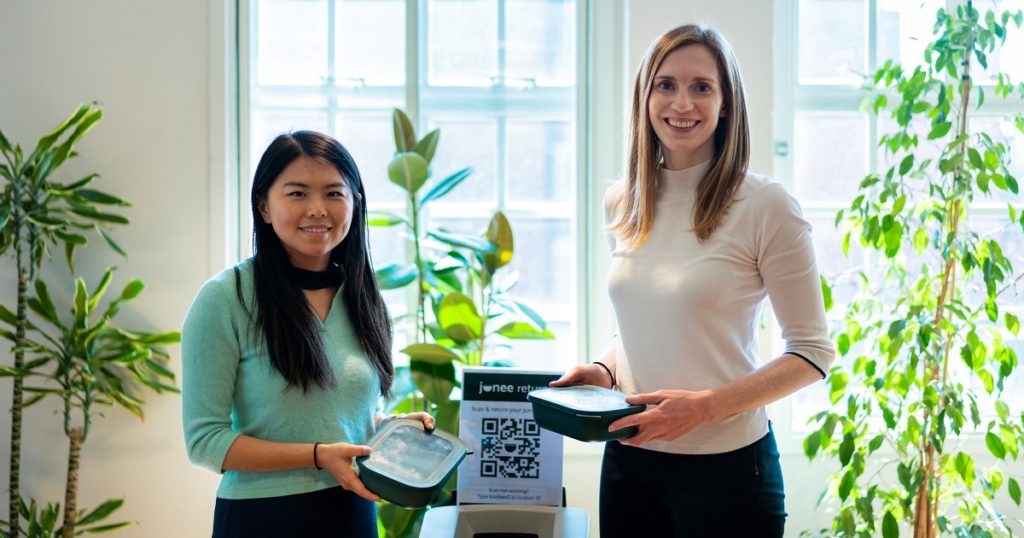 How did you and your cofounder, Mary, come up with a business plan for Junee?
The idea for junee did not come to us as an epiphany, rather Mary and I spoke about how better sustainable practices could be implemented, and Junee was an upshot of those conversations. We thought about it for over two years during our MBA at LBS, and realized that traditional approaches, such as coffee shops offering a discount to customers that bring their cups, did not work or were inconvenient to customers. Moreover, both of us led lifestyles that emphasized sustainable practices, and, therefore, we both got behind executing our business plan.
What challenges did you face in the ideation stage?
Mary and I were in the throes of the COVID-19 pandemic when we were in the ideation stage. Naturally, the toughest challenge to tackle was the uncertainty induced by the pandemic. Our team was unsure as to when businesses would reopen, employees could safely return to the office, and organizations would be receptive to our idea, given that sanitation was a primary concern for them during the fall of 2021.
How did you connect with Mary, your co-founder?
Mary and I met at London Business School. We were both in the same class and bonded over sustainability right from the get-go. My experience working on sustainability at Deloitte and Mary's time at HelloFresh provided us with the skills and tools to tackle the takeaway packaging problem. Nevertheless, to determine whether we worked well as co-founders, both of us introduced a trial period to ensure that we were comfortable with each other's styles. The outcome of the trial period was a greater sense of reassurance that we would work well on founding junee.
How has your experience at Launchpad shaped the founding of Junee?
Launchpad proved to be highly beneficial for junee because of its structured nature. This helped us to organize our thoughts and develop a realistic business model. Additionally, multiple pitch practices and guidance from our mentor helped us greatly in finalizing our idea. Coincidentally, it was one of the judges of the final pitch night that connected us to a venture capitalist, who later invested in our first funding round. Launchpad truly opens doors because of the endless opportunities to network.
What was your most memorable experience at Launchpad?
The Final Pitch night in May'21 was my most memorable experience at Launchpad. It was my first in-person event in over a year, and I couldn't wait to pitch in front of an audience. The prospect of meeting so many people excited me, and the night ended with junee grabbing the 2nd place–couldn't ask for more!
Plans for the future
junee has just closed their first investment round of £250k with the support of London's top early-stage sustainability VC, Sustainable Ventures, and a passionate group of angels including Uwe Voss, Bryan Rozycki, Jake Zerbe, Jun Tomida, Kevin Schrik, and more.
So what's next for junee? "We're building our early team and expanding our restaurant and company partnerships to make London's office lunches zero waste." says Caroline.
About Launchpad
Launchpad applications open on December 3rd. More details can be found on their website (here) – or reach out to them directly via email (here).
---
About the author: Gautam Sreekumar is currently reading for his Masters in Financial Analysis at London Business School, and his professional interests lie in the interface of education, finance, and technology.  He previously worked as an analyst in KPMG's Risk Advisory practise in Bengaluru, India, and interned at Funema, an African VC firm, and The Startupreneur, a startup accelerator. At Launchpad, Gautam is responsible for marketing and operations.