In a recent study on entrepreneurship in the UK, over 64% of those surveyed stated that they would like to start a business, and when asking just those aged 18 – 24 years, that stat jumped to 83% (source). In reality, most do not take the leap – in that same survey over 43% of people said they wouldn't actually start their business due to financial or stress concerns.
The London Business School Entrepreneurship Club (eClub), in partnership with the Institute of Entrepreneurship and Private Capital (IEPC), is working to close the gap between those that want to start a business with those that actually do it.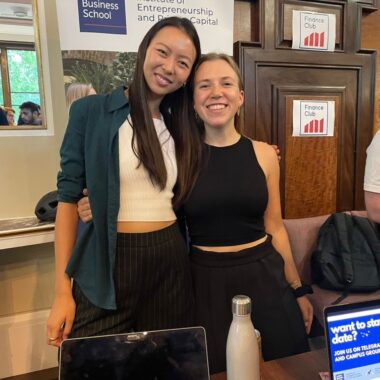 The eClub is not only focused on building the entrepreneurial ecosystem at LBS campus, but also more broadly in London. Our goal is to build an effective ecosystem that creates programming and resources across LBS, empowering students, alumni, and London-based founders, and increasing accessibility to entrepreneurship, and building a brand that is known for entrepreneurship, both in London and around the world.
As shown by the number of people that want to be an entrepreneur but can't seem to make the move, the world of entrepreneurship can be daunting. Between fundraising, pitching, networking, joining accelerators, finding co-founders, and more, it's easy to get lost in the chaos.
In this post, I am going to write about how the eClub creates opportunities for students and aspiring entrepreneurs to gain experience to take that leap of faith to become a founder.
How does the eClub work?
The eClub is student-run with support through an ongoing partnership with the IEPC, allowing the club to work hand-in-hand and collaborate with the school's official programmes and initiatives. Across the club, we have four presidents, 10 vice-presidents, and 30+ executive committee members that represent the various masters' programs at LBS, including the MBA, MiM, MFA programmes, and over a dozen countries. Our team is comprised of past founders, current founders, investors, engineers, venture capitalists, consultants, brand strategists, and more.
Our teams are split across three main focus areas: competitions, skills + learning, and networking.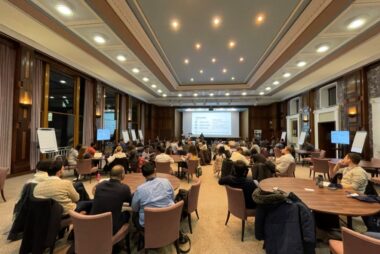 The Competitions Programmes
There are four main competition programmes in the eClub, these are Hackathon, Launchpad, MENA Competition, and Pitch Nights (which include Booster events and Pizza, Pints, and Pitches events). These competitions are focused on providing entrepreneurs of all stages an opportunity to ideate, build, and pitch an idea.
The Hackathon is the earliest entry opportunity if you're interested in becoming an entrepreneur but have no existing idea or team. The Hackathon is an annual event (hosted this year in late January). Participants from across London come together, form teams, and solve one of three prompts provided by the club. Teams are encouraged to partner up business talent with design expertise and coding experience – ultimately allowing teams to create an actual MVP over the course of two days. This year's winners were focused on solving issues related to food waste and breaking (or making) habits.
Launchpad is the next stage for up-and-coming entrepreneurs. Launchpad is a pre-accelerator programme, which means it's the perfect programme for founders that have an idea but need to build a business model, create an MVP, ideate product-market fit, and create a pitch deck to take their business to the next level. Launchpad is application-only, with highly competitive cohorts of 12 – 18 teams hand-selected by the IEPC each year. Launchpad includes a mix of LBS and non-LBS participants. Launchpad participants are provided with 1 on 1 mentorship, weekly bespoke workshops, and a chance to win up to £10k to kick-start their business. Past participants include Cult Mia, Ocean Bottle, Junee, Go Rollee, and more. Launchpad's Final Pitch Night was held in late April this year, applications for the next cohort will open in December 2023.
MENA Start-up Competition is an LBS accelerator programme based in Middle East North Africa region (MENA), supported by the IEPC, set to become one of the region's foremost startup competitions. Those that take part in the competition will benefit from matchmaking with the most prominent regional investors, mentoring by leading industry experts, high media exposure, and a chance to win cash prizes. The programme is for founders based and / or operating in MENA with initial traction, a solid MVP and that have completed a pre-seed or seed round. Applications open in early May, and the programme will officially begin in July. For more information, please visit the website here.
Pitch Nights (Booster and Pizza, Pints and Pitches) is our final competition format with two options for founders to get their foot in the door. The more formal of the Pitch Nights are "Booster" events, where start-ups sign up to pitch with 3 – 4 other businesses for a chance to win prize money, but more importantly, an opportunity to pitch in front of a diverse community of students, founders, and VCs. Pizza, Pints, and Pitches (PPP) is an informal opportunity for anyone to pitch an idea of any stage as a chance to improve their pitching style, gain confidence, and get feedback from fellow students. Both Booster and PPP are held on a quarterly basis on the London Business School campus. Booster is open to the public – keep an eye out on LinkedIn for communications on any upcoming opportunities to attend.
No idea how to pitch? Or lacking an idea to build? That is where our Skills / Learning Programming comes in.
The Skills Sessions team on the eClub is focused on creating programming for founders, co-founders, potential entrepreneurs, and even those working in other functions / roles where entrepreneurial skillsets are important (note: this is probably in most roles)! Past sessions include the power of network, an enlightening panel on generative AI, an introduction to business idea evaluation, and more.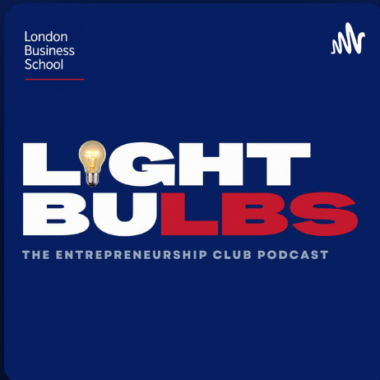 The LBS podcast, recently relaunched as LightbuLBS (find on Spotify), is another opportunity to hear about what it's like to be an entrepreneur, learn key lessons from LBS alumni founders and gain tips / tricks from other experts in the space like VCs or accelerator leads. Episodes will be continuously launched throughout the rest of the year; subscribe on Spotify to make sure you don't miss the next one!
Finally, the Ventures Spotlight Newsletter is your one-stop shop for current news straight from the source on campus. Each edition is unique but includes interviews with founders and VCs on campus, updates on alumni-led startups, and blurbs on trends to look out for / things to read, see, listen to. Past editions of the newsletter can be found here, and you can sign-up for future editions here.
Lastly, networking is key for any entrepreneur. The eClub provides a multitude of opportunities for students and alumni to build and hone their network.
The Art of Networking:
The Alumni Relations team has been busy at work this year relaunching the Founders Book, which was originally started by eClub President Kathryn Larin a couple of years ago as a way to spotlight the amazing startups born out of the LBS ecosystem. The Founders Book contains detailed information on sector, location, amount raised, contact details, and more. Check it out here: https://foundersbook.eclublbs.com/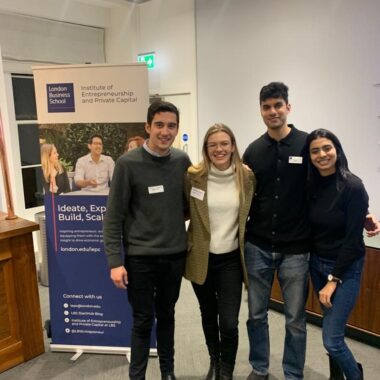 Beyond the Founders Book, the team creates networking opportunities for LBS founders to come back to campus and network with each other in closed, intimate networking sessions. The goal is to foster collaboration and strengthen relationships across the community, and encourage founders to feel they have support and roots at LBS.
The role of venture capital in entrepreneurship is undeniable; the VC Relations team is focused on building connections and networking opportunities with venture capitalists in London and beyond. This includes VC / start-up connect events, finding investors to judge our competitions events, working hand-in-hand with the PE / VC team on events and panels, and more.
And last but not least…
I can't end this post without mentioning the other incredible work that goes on behind the scenes at the eClub to make all of the above possible. One such team is the branding team, who are currently hard at work to re-do all our websites and branding. Look out for our new page later this year.
Interested in learning more about the Entrepreneurship Club at LBS? Stay up to date on all events via our LinkedIn channel, add us on Instagram (@entrepreneurshiplbs), or reach out at eclub@london.edu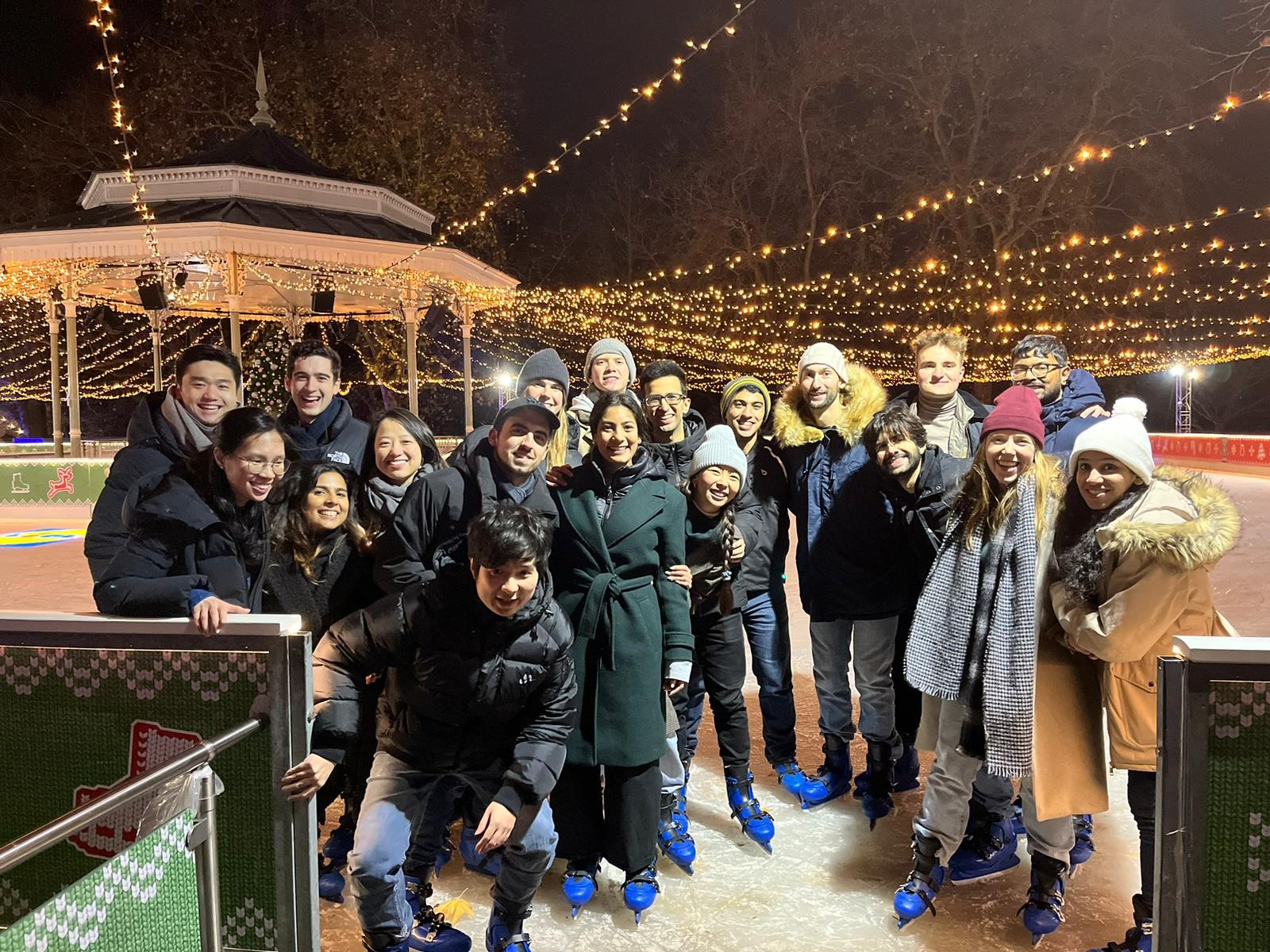 About the author: Courtney Sawatzke is a full-time MBA student at London Business School and is the co-president of the LBS Entrepreneurship Club. Courtney is currently an investor at Active Partners working with the consumer early-stage fund. Prior to the MBA, she spent five years working in strategy consulting in Chicago and NYC. She is passionate about working with founders at all stages to help make their idea a reality. Post-MBA, Courtney wants to stay in Europe to help build and scale consumer brands on both the investor and founder sides.