Jane Khedair, Chair of the LBS Incubator Programme, shares her findings on how the Incubator start-ups have responded to the current challenges and some insights about the programme.
From this…
Last September we welcomed the 10th cohort into London Business School's Incubator programme, launched in 2010 on the back of a request from a couple of graduating students looking for some campus space to develop their business idea. From such humble beginnings, comprising a couple of desks in a single back-office room, the programme now barely resembles how it started. Such is the nature of evolution and the never-ending quest for improvement.
…to this
For the last 5 years, the programme has enjoyed dedicated space – affectionately known as 'The House' – on our Sussex Place site. It effectively represents a physical showcase of our start-ups who 'live' there for the duration of the 11-month period.
In addition, each participating business is endowed with a support package that comes from some of the most credible names across the London start-up scene. These range from professional practitioners such as the City law firm Shoosmiths and IP experts Cleveland Scott York, cloud-based tools like AWS, HubSpot, Hootsuite, Xero, Dropbox and Stripe, as well as a bank of mentors who our businesses are encouraged to foster a relationship with to derive full value from each of their life and commercial experiences.
Whilst some attempts to quantify the value of the programme have calculated it as being in excess of £250,000 per business, in truth, there is no sum of money that can provide the nature and extent of the available support. That aside, it is the strength of the community as well as the accolade of this highly select credential that those who have been privy to will attest as opening doors that would otherwise stay closed to them indefinitely.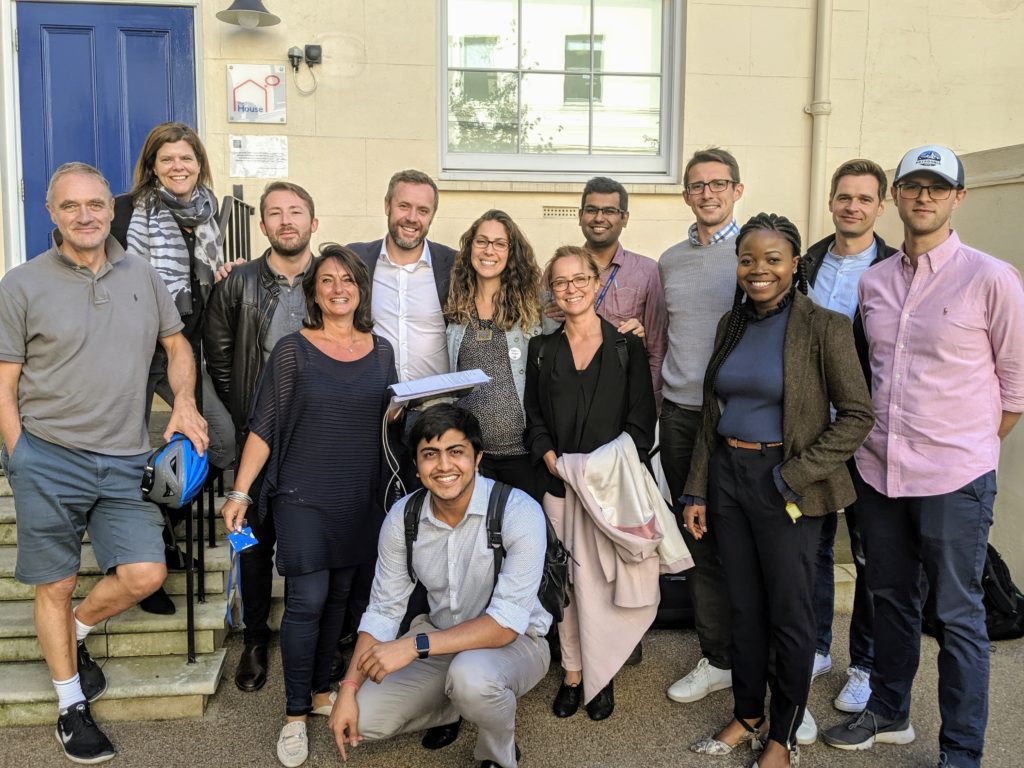 100 of the best
From the ever-increasing pool of aspiring entrepreneurial students who complete their study programme each year, we have so far cherry-picked exactly 100 alumni founders to join the School's Incubator programme over the last 10 years. A nice round number to mark the end of a decade before the next cohort come in this September. With applicants having to compete vigorously for just one of eleven places that are available each year, it's little wonder that we have seen not only a substantial annual increase in the number of entrants but also a significant increase in their quality as each year passes.
Needless to say, we pick (what we think and hope!) are the ventures which have the highest potential but also have the greatest need for incubation. Those that can take as well as give back, since it's part of a two-way relationship especially in the absence of the School profiteering from the Programme from any direct charge nor equity arrangement. Of course, there are ventures that inevitable fall through the cracks. Some are often too late to benefit from the resources that we make available and so go off on their own merry way, and conversely, others are too early for inclusion one year only to make such great progress over the subsequent months to discover that they have accelerated beyond incubation once the application for the following year opens up again. Timing is everything as they say!
The proof is in the numbers
With the 100 who we have chosen over the years, there certainly seems to be some evidence that the selection process is sufficiently robust. Whilst the initiative is sector agnostic, I can't say I'm entirely surprised that most of our exits so far have been for apps which have ranged from anything from restaurant booking to dry cleaning and even student engagement.
However, perhaps the real evidence of the strength of our select alumni is in the numbers of the group as a whole. Although it's been an impossible task to get exact metrics, relying on the transparency and cooperation of these very busy and somewhat distracted founders, at the last count I've been reliably informed that they have collectively raised over £60m and created over 600 full-time jobs between them. To say we're proud is an understatement. Of course, this is changing daily and probably out of date by the time it has taken for this piece to be posted, so who knows what the real numbers are?? Nevertheless, with over 86% of the ventures from the last 5 years still being in business, the benefits of incubation to get them off the starter blocks speak for themselves.
When the going gets tough
Against a backdrop of a thriving economy over recent years, some may argue that the success of these ventures is almost a given. More than that, it's probably even expected when you consider the founders' London Business School pedigree. But it's in difficult times – and it doesn't get any harder than the last few months – that our alumni really show their strength and tenacity.
A survey of all 100, with a 35% response rate, has demonstrated that nearly three-quarters of them have responded to the 'new norm' by either pivoting their business or by identifying new opportunities. The examples are numerous and varied.
Pass the Keys, a short term let management company which was set up in 2015, has been able to accelerate a roll-out through a newly launched franchise programme which has enabled it to penetrate 15 new cities across the UK in just a few months. Anticipating an imminent surge in 'staycations' which will drive demand across the UK, the future certainly looks exciting for these guys. In contrast, Carbon Chain has pivoted from diamond provenance to the timelier opportunity of tracking carbon emissions in supply chains. On another note, Tahreem Arshad's (MBA2014) tech business – Sozie – has developed a specific COVID-19 plan for retailers such as Adidas to onboard their at-home store staff as content generators, using Sozie to ship inventory and monitor returns. And so the list goes on…
Apart from safeguarding their own businesses, they're all equally conscious of their responsibilities as employers. Whilst some have tapped into the Government support resources to secure the jobs of their staff during this period, over a third don't anticipate any implications on headcount for the foreseeable future. In fact, nearly 16% have even made new roles available over the last few weeks.
Turnover levels have held up well too with 25% of the businesses experiencing an increase in revenue since lockdown and a further 34% saying that their numbers are comparable to the same period of the previous year.
Keeping their eyes on the numbers, frugality seems to be the order of the day as many of the businesses have successfully managed to negotiate better terms with suppliers, and a fifth of them have had their rent reduced or frozen.
Survival of the fittest
As always though cash is king. I'm certainly comforted by the fact that a third of the businesses have plenty of reserves in the bank to see them through the current situation and that many of the others who are raising funds are still proceeding with discussions that had been initiated before the crisis.
For those who are evaluating options or struggling to implement a strategy change to embrace new opportunities, there's help available from an army of LBS volunteer students working as part of the LBS Fights COVID initiative. For others who are looking for a security blanket or some advice on any employment issues, the Incubator 'Supporters' have stepped up to help those beyond the current cohort to host webinars and generally be available for any assistance that these businesses may need.
Such is the benefit of being part of the Incubator community which reaches far further than the exact duration of the programme period to match the resilience and strength of our family of founders through thick and thin.
For me, I'm looking forward to following these business' ongoing progress over the coming months and years. Hopefully, it's only a matter of time before we can all get back on campus to welcome them as shining examples of our alumni entrepreneurs, each sharing their stories and learnings with those following in their footsteps just as they benefitted from others who went before them.
---
About the author: Jane Khedair is Director at the Institute of Innovation and Entrepreneurship and amongst many initiatives, she is managing the LBS Incubator programme and Enterprise 100, London Business School's angel network.