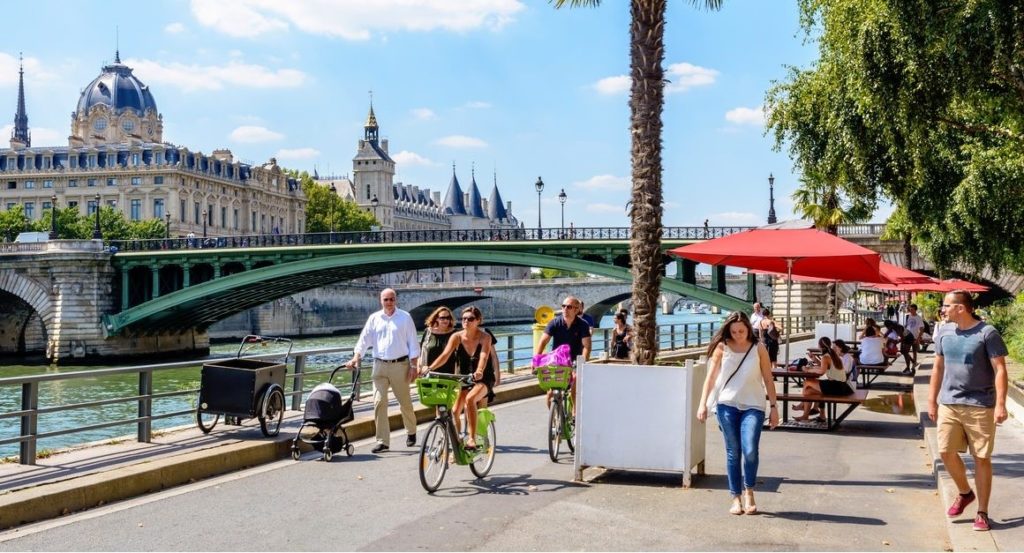 The mobility industry, like most, has felt an impact from the pandemic. But, what's next? Julien Trost MBA2021 explores micromobility and related venture opportunities.
The use of Micromobility as a word is a relatively new trend that coincides with the birth of Lime and Bird, the electric scooters sharing services, in 2017. But the history of Micromobility, defined as all products and services intended to facilitate urban displacements within short distances, started more than 50 years ago, in 1965 to be exact.
Micromobility, a world story
That year in Amsterdam started the first bike-sharing program called Witte Fietsenplan or the White Bicycle Plan, that did not last but clearly paved the way to the current offering. There are more than 1,600 bike-sharing initiatives today, including the two biggest in Europe: Vélib in Paris (2007) and the Santander Cycles (2010) in London. In 2016, a new model came from China in the form of hundreds of thousands of bikes deployed in every major city. It was the start of free-floating but the poor quality of the hardware and curb management issues made them disappear in less than two years. The third era of micromobility started in the US in 2018 when Lime and Bird really emerged. The first one reached 50 million rides within 18 months and the second became the world fastest unicorn, in about 9 months.
In 2019, we counted about two dozen operators across the world, Lime was the leader, active in 120 cities in 30 countries, with almost 4 rides starting every second. Then, the pandemic hit. And as social distancing and lockdown measures became the norm, the number of rides collapsed. In Paris, the biggest single market for micromobility, activity dropped by 98% by the end of March.
While European players such as Tier, Dott and Voi maintained minimum activity, free of charge for essential workers, the two American leaders stopped operating in Europe. Bird laid off about 30% of its employees through an intolerable Zoom webinar. With a monthly burn rate of around $22.5 million, Lime had to quickly raise to survive. In May, Uber led the $170 million round, but the scooter rental platform valuation plummeted by 79% to drop at $510 million.
Observers started to believe electric scooters and other shared micromobility vehicles to have only been a fashion facilitated by billions of dollars of VC cash. But when confinement measures relaxed, an exceptional rebound occurred as people were avoiding public transportation and ride-hailing services. At the end of June, micromobility services were back to pre-COVID levels and growing while ride-hailing services activity was still half of what it used to be.
Shaping the post-pandemic world
The COVID-19 pandemic is profoundly transforming consumer habits and cities are following. First, we are now seeing people using shared micromobility services to commute and trips become longer, improving the unit economics of the industry. The sales of e-bikes are spiking (+50% YoY globally) as people are avoiding crowded transportation and have seen their environmental awareness deepened.
Second, cities realized how much space is allocated to cars and are finally giving it back to pedestrians and soft mobility, investing heavily in the infrastructure. The UK announced a £2 billion plan to build thousands of kilometers of protected bike lanes and finally granted access to scooter operators. Paris wants to stay ahead of the pack in this revolution and converted 50 kilometers of lanes reserved for cars into bicycle "corona-lanes". It will also invest $325 million into the improvement of the bicycle network. More interestingly, the US are also affected by this trend and we are seeing numerous car-free streets initiatives emerging across the country like in New York City or San Francisco.
As a consequence, similarly to what has been done with the automotive a century ago, a whole ecosystem has to be built to make micromobility a true transportation alternative, available to all, and a profitable business.
Time to launch your micromobility start-up
As we are entering the new era of micromobility, there are many opportunities to build successful ventures that will help people move and shape our cities in a more sustainable way. I see three major trends emerging that will drive the growth of the space.
First, the rise of what I called micromobility enablers. These are the companies helping manufacturers, operators and governments working together to develop a smart global micromobility service. Data will play the main role here. They are essential for cities to develop adapted infrastructure and for operators to streamline operations and optimize availability to consumers, so platforms integrating both sides will thrive.
Second, as private ownership of micromobility vehicles becomes mainstream, people will want similar services to what they are used to in the automotive world: pay-per-use insurance, efficient navigation tools or convenient maintenance. Interestingly, incumbents are not yet heavily investing in the space, except maybe Google and Apple regarding navigation, creating great exit opportunities for the start-ups paving the way.
And last is the profound change in public-aids towards mobility. After decades of subsidies solely reserved to the automotive industry, notably for the development of the electric vehicle, we are now seeing public funds dedicated to help people transition towards micromobility. In France for instance, all employers will contribute to home-to-work trips' costs through shared mobility solutions for their employees. This package is up to €400 per year free of tax and healthcare contributions. Start-ups offering convenient payment solutions for employees while helping companies manage the administrative functions will gain traction.
In brief, it is definitely the best time to contribute to the future of mobility!
---
About the author: Julien Trost MBA2021 is Co-President of the Future of Mobility Club and currently working as an analyst for the Smart Cities team at Idinvest Partners, a leading Pan-European VC fund. He worked as a researcher for the automotive industry before joining London Business School.