Launchpad is London Business School's startup pre-accelerator program connecting business minds with London's entrepreneurial community to transform ideas into viable businesses. Meet this year's successful applicants who are participating in this structured program consisting of 10 workshops to develop a pitch that is ready to be presented to investors.
The program is based at London Business School and is supported by the Institute of Innovation and Entrepreneurship. Participants have the opportunity to receive in-kind donations exceeding £10k, a cash prize of £3000, business mentors from LBS's extensive network and the opportunity to join London's most well-connected start-up hub.
Final stage participants have the opportunity to pitch their business to a carefully selected room of investors.
We welcome all the startups to Launchpad and are excited to be part of their journey. We asked some of the teams about their ventures ahead of the mid-point week. This is what they told us!
Learn about: More Than Vegan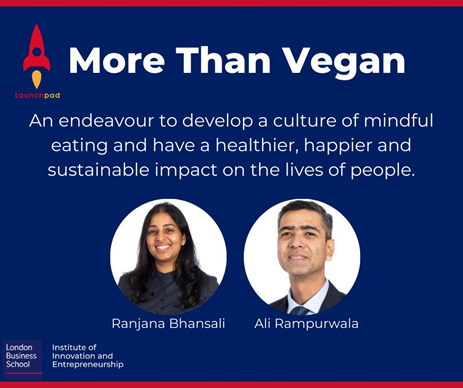 Team members: Ranjana Bhansali (Sloan 2020), Ali Rampurwala (Sloan 2020)
Tell me more about the venture
Ranjana Bhansali Singhi has experienced first-hand the challenges associated with food sensitivity, and she has been exploring ways to connect to and help people with these conditions. She met Aliasger Rampurawala during her Sloan Masters and they came up with More Than Vegan. Their platform focused on community will create awareness and bridge the existing gaps.
We are thrilled to have More Than Vegan in this year's cohort and think that the healthy eating space is one to watch.
Learn about: TUPP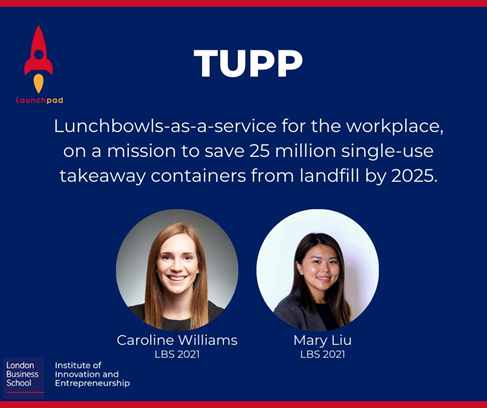 Team members: Caroline Williams (MBA 2021), Mary Liu (MBA 2021)
Tell me more about the venture
Caroline Williams and Mary Liu won this year's Booster competition before applying to join Launchpad with their sustainable lunch business.
The inspiration for TUPP comes from problems Caroline and Mary saw at their last jobs. Caroline witnessed the volume of plastic and other packaging waste generated from lunchtime takeaways as she led recycling education initiatives at Deloitte. During Mary's role in Packaging Procurement for Hellofresh, she saw first-hand how much single-use packaging was created in food delivery. TUPP is the solution to those problems.
Learn about: Haast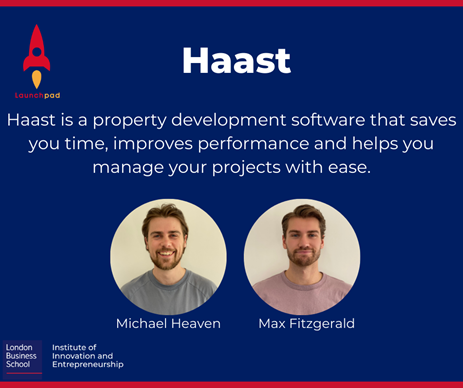 Team members: Michael Heaven, Max Fitzgerald
Tell me more about the venture
Michael and Max aim to break the barriers of entry into property development. Their software automates the sourcing of a project plan and appraisals for any type of property development: new builds, extensions, refurbishments, you name it! They heard of LBS Launchpad through their MBA intern Ankita, who is studying at LBS. Thank you Ankita for getting the Haast team to come onboard.
Learn about: Ubiwork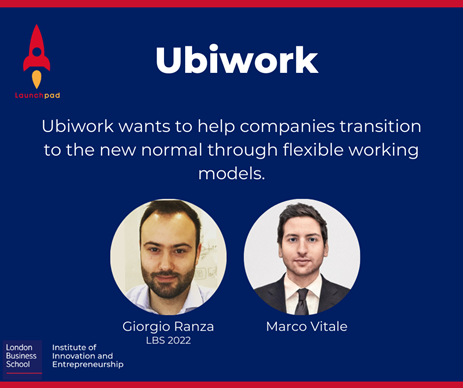 Team members: Giorgio Ranza (MBA 2022), Marco Vitale
Tell me more about the venture
Ubiwork is a unique B2B platform targeted at companies that are switching to hybrid/flexible working models, offering low-cost distributed co-working spaces. A solution much needed as employees return to their offices post the COVID-19 pandemic. Gorgio and Marco have been long-standing friends. They first endeavoured into the co-working industry while studying together in Italy, where they obtained a grant by a leading EU commercial bank to sponsor their university research project on new working models.
Learn about: Unimusic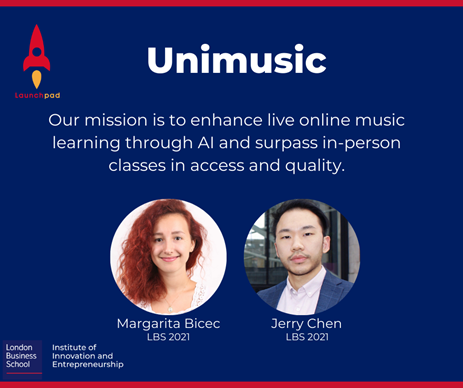 Team members: Margarita (MIM 2021), Jerry Chen (MIM 2021)
Tell me more about the venture
Unimusic software will provide a centralized learning ecosystem for both teachers and students; offering an exhaustive interface that includes online scheduling, immersive camera views, music sheet library, note pads, progress reports, assessments, shared media and interactive games.
Margarita and Jerry are both alumni from top music schools in the US and have a network that extends across leading music and business schools. For those looking to learn a new instrument, watch out for this upcoming startup!
Learn about: AMPD Limited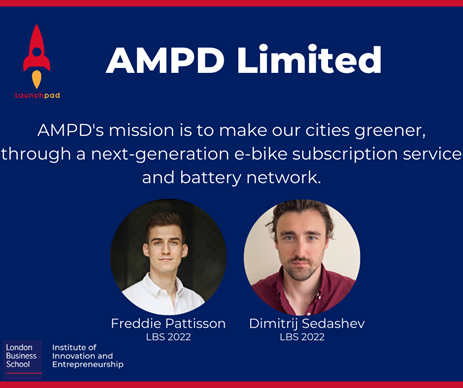 Team members: Freddie Pattison (MBA 2022), Dimitrij Sedashev (MBA 2022)
Tell me more about the venture
Freddie and Dimitrij are both studying MBAs at LBS and are looking to disrupt the electric vehicle space because it has a positive impact on the environment and there is a clear market opportunity. They believe through Launchpad they will be able to progress further their idea and their go-to-market plan.
Learn about: Beacon
Team members: Justin Watson (MBA2021), Daniel McBride (MBA2021)
Tell me more about the venture
Justin and Daniel look to enter the Smart Home industry with disruptive products. They are eyeing the LBS Incubator and look at Launchpad as the path to get them there.
Learn about: SENUP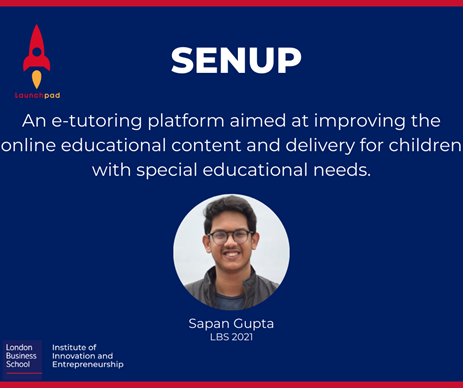 Team members: Sapan Gupta (MIM 2021)
Tell me more about the venture
Sapan was sitting on this idea for couple years and once he saw the impact COVID-19 brought in education, he knew it was time to act on it. He aims to help parents and educators to be able to provide personalised e-learning content adapted to the special educational needs of their children.
Learn about: Cuukin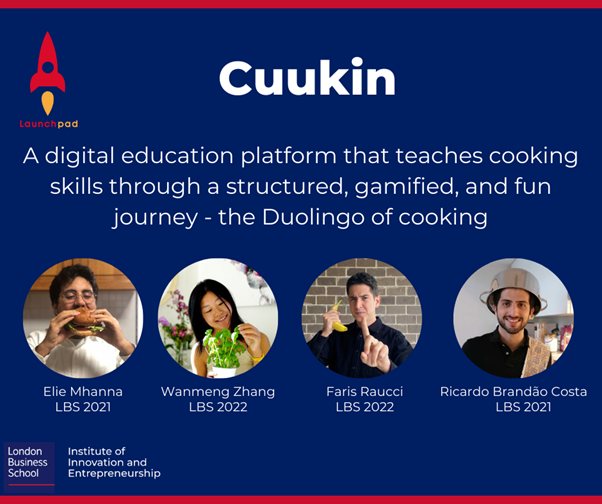 Team members: Elie Mhanna (MBA 2021), Wanmeng Zhang (MBA 2022), Faris Raucci (MBA 2022), Ricardo Brandao Costa (MBA 2022)
Tell me more about the venture
Lockdown made us all look for our inner master chef and Instagram our creations. Remember the banana bread challenge? Or the sourdough one?
Cuukin brings a creative team together looking to uplift your cooking skills in a fun and interactive way. They believe that the Launchpad ecosystem would provide them with a place to promote their idea and get feedback from other start-up founders and investors.
Elie you made us hungry looking at that burger!
Learn about: ReWined
Team members: Capucine Codron (MBA 2022), Sijia Hao (MBA 2022), Pamela Flores Monico (MBA 2022), Lynda Liu (MBA 2021)
Tell me more about the venture
ReWined's mission is to provide a sustainable, financially viable and convenient way to enjoy Wine o'clock through their e-commerce platform. ReWined applied at Launchpad as they believe the programme can help them progress in their journey and get advice/mentorship to better understand unit economics and design of an MVP. The team has diverse experiences from supply chain, logistics, e-commerce and digital marketing.
Learn about: GoRolloe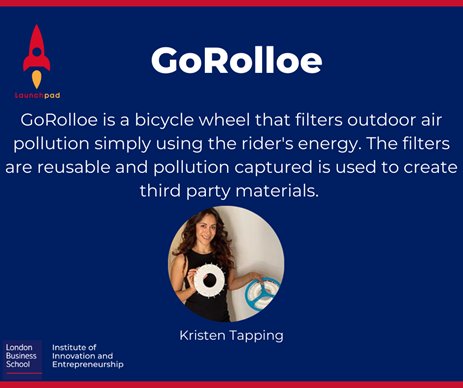 Team members: Kristen Tapping
Tell me more about the venture
As a product designer, Kristen aims to solve impactful challenges such as reducing air pollution in our cities. Her bicycle wheel design has won the UK Design Innovation in Plastics 2020 competition and through LBS Launchpad she is looking to move into new heights on route to product commercialization. Belfast, The City of London, and the Vancouver Police Dept Bike Unit have already confirmed their interest in using such product.
Learn about: ARTIZAANS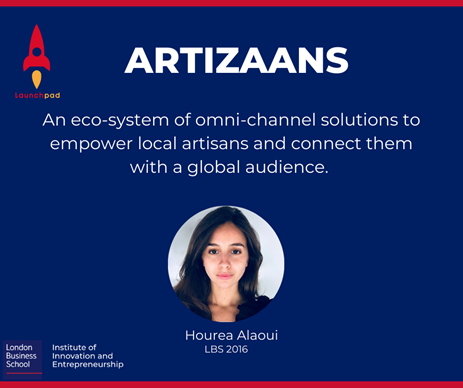 Team members: Hourea Alaoui (MIM 2016)
Tell me more about the venture
Hourea with ARTIZAANS aims to enable artisans to have access to a global audience and allow consumers to buy high quality artisanal products that would only be possible to purchase if travelling to certain destinations.
She has shown her entrepreneurial mindset from early on. At 15, she founded her first non-profit organisation, helping communities from remote villages in the Atlas Mountains. While at 18, she opened her first pop-up concept store, promoting artisanal creations in Paris where she managed a team of five.
Learn about: HonestCollectors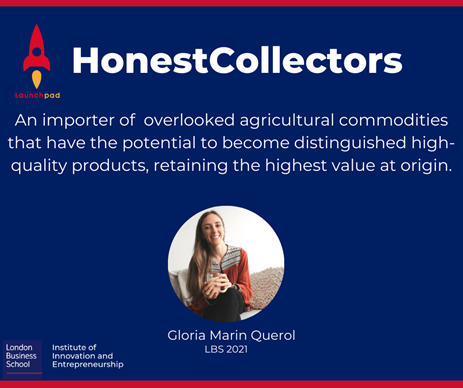 Team members: Gloria Marin Querol (MIM 2021)
Tell me more about the venture
Gloria's mission is to enable fair trade of overlooked agricultural commodities by championing an ethical and transparent supply chain. She came with this idea while living in Uganda for six months. Her first product is Fine Robusta Coffee from Uganda, a single-origin, single estate ethical sourced coffee. It is launching soon in Europe and we cannot wait to try it out.
Learn about: Avatar Unmanned Solutions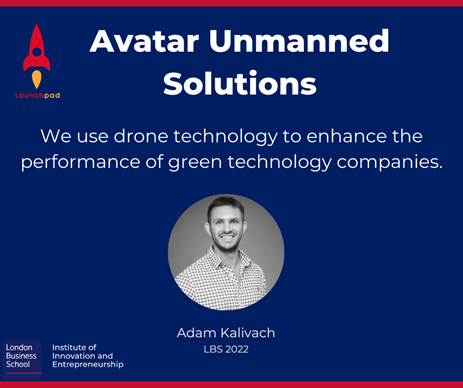 Team members: Adam Kalivach (MBA 2022)
Tell me more about the venture
Adam through Avatar Unmanned Solutions is trying to solve the world's problem of limited natural resources by helping green technology and agriculture companies to fully utilize their business outcomes. Avatar plans to early detect prospective machinery and infrastructure malfunctions by providing special imagery with data that no human eye can see.
They are launching this year in China!
Learn about: Connescape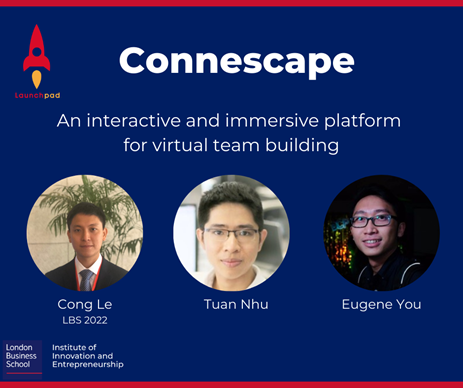 Team members: Cong Le (MBA 2022), Tuan Nhu, Eugene You
Tell me more about the venture
In response to COVID-19, Connescape came to life with the aim to provide an interactive and fun team-building experience for teams working remotely, friends wanting to connect, whenever they are. Cong had initially built and ran a physical escape room business between 2015-2020 and then decided to build the same experience virtually with Tuan and Eugene.
---
About the author: Kristina Stoli is a MBA 2022 candidate at the London Business School and current project manager of LBS Launchpad. Prior to her MBA, she has had roles in software development, network engineering and product management at Goldman Sachs. She is passionate about helping entrepreneurs get the needed tools and access to be successful in their ventures.