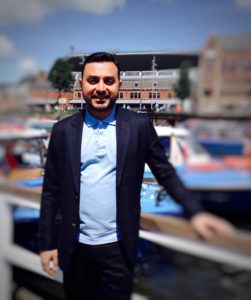 What is a Hackathon?
Having attended my first hackathon a few years ago and another one more recently, I am convinced of its benefits. For those who don't know what that is, it's a platform for idea makers to come together, present their concepts (big or small) and work on it for the next 54 hours (give or take). It's an inspiring activity to be engaged in and kick-start your venture. Not only do you get to meet talented individuals but also work with them. In my team for instance, there was a Spanish HR professional who delegated her two kids to her husband and was the first to remember all of our names. There was a young Englishman who started his own business delivering nutritious snacks to schools. Another talented individual who started his own business when he was 16 and rejected top corporate offers to work for a startup, eventually working his way to head of digital marketing. Then there was the developer whose work ethic stood second to none and created the most amazing codes within a couple of days; quite fascinating. And finally a biochemist, turned philosopher, turned television producer, turned visual poet, and almost a Steve Jobs lookalike with his own Wikipedia page who was also our team leader.
What did I learn?
You learn a lot from hackathons. To name a few: catering to the Gig economy, importance of a seamless service, predictive algorithms, the capacity for transformation (e.g. Disney repositioning itself to deliver its own video streaming rather than licensing to Netflix). However, two important points were my highlights.
Firstly, I learnt how large companies can learn from startups. I realized how complacency can become a sin and that ideas can often come from the most unlikely sources. Corporates should not only encourage this platform but also create a culture where ideas are nourished and brought to life. One of the reasons Apple thrived was because Mr Jobs encouraged new ideas. There is a big opportunity for established companies to create a culture similar to a Hackathon weekend, not only for the sake of their business model, but also to have a healthier work environment.
Secondly, I witnessed first-hand the importance of agility when moving towards your newly formed goals or projects. Pivot is the key word to look for when starting your team, as there will always be an 'aha moment' where you have to rethink almost everything and start from square one. The team has to be resilient enough to be flexible and respond to threats via iterative innovation. Our team comprised of the right balance of technicians, designers and business people (in other words a good combination of hackers, pirates and hustlers).
Why participate?
If you have an idea that you have always wanted to work on, there are resources available to get you there; that's the beauty of today's world which has come a long way since the dot com era. You don't have to attend a Hackathon event if you don't want to; there are other tools such as business canvases, mentors or others internal to your organization. But if you have the opportunity, I will definitely encourage participation as it offers a laid back ambience where you can explore your ever burning ideas. The collaborative office campus that hosted us had an unlimited supply of beer on tap (but that's not the only reason why we all look so jolly in the photo above) along with an abundance of other snacks (nutritious of course). More importantly, you will gain the experience of working with people that you might not normally liaise with and develop some solid business acumen (like how to sell your minimal viable product within 60 seconds). All of these can be applied into your profession regardless of whether you have a corporate job or are self-employed or are looking to get inspired. And the most 'innovative' thing is that you will accomplish all of this within 54 hours. LBS hosts its own hackathon events (HackLBS) offered by the Entrepreneurship Club throughout the year.
Happy Startingup 🙂
---
About the author: Addy Mittal MIFPT2021, is a strategy, operations and risk professional with strong experience in financial services, payments and technology sectors. He is an advisor at the LBS Hackathon events and has over 15 years of entrepreneurship and consulting experience.